Environment Agency Wales warns of high tide coast risk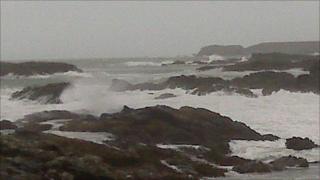 People have been advised to steer clear of seafronts around the Welsh coastline during high tides over the next 48 hours.
Environment Agency Wales has also warned of possible flooding along the coast at high tide early on Monday and again on Tuesday.
North Wales is braced for storms as the remnants of Hurricane Katia head for northern parts of the UK.
But high tides are predicted for the whole of the Welsh coast.
The Environment Agency said the forecast strong winds, offshore waves and high tides could lead to flood alerts and warnings.
The agency said its officers will also be out on the ground checking flood defences and will deploy temporary measures if needed.
They advised people to steer clear of the sea front during the high tides as conditions may be hazardous.
BBC Wales correspondent Colette Hume reported on Sunday: "Strong winds and heavy seas are already battering the Anglesey coastline.
"Gusts of wind have knocked me off my feet here at Trearddur Bay. The weather began to worsen just after midday and the wind appears to be strengthening.
"At times it's hard to stay upright."
Billy Payne, forecaster for MeteoGroup, said: "The deep low pressure system which has come from the remnants of Hurricane Katia will approach north west Scotland tonight with strong winds hitting during Monday.
"There will be rain and widespread gusts of between 50-70mph across Scotland, Northern Ireland, north Wales and northern England while western parts of northern Scotland, which are most prone, could see gusts of up to 80mph.
"There is the potential for damage especially with trees and the winds will be strong enough to cause some structural problems."