Students union query over Wales universities' £1m fines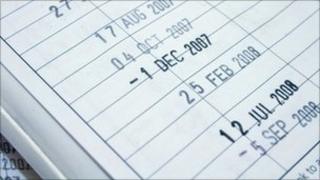 The National Union of Students Wales wants clarity on how universities are spending collected library fines.
Figures obtained by BBC Wales show almost £1m was charged in the last academic year with just over half of fines collected.
NUS Wales president Luke Young said it would be "unacceptable" if the money was being put towards core services that should be funded by universities.
Universities said money collected was being reinvested in library services.
Cardiff university, the largest of the 10 in Wales, accounted for £503,863.94 in charges, collecting only £293,694.
"Universities have generated hundreds of thousands of pounds in fines from students," said Mr Young. "I would ask for clarity on where this money is being spent.
"It would be an unacceptable situation if this money is subsidising core services that the institution should be funding appropriately.
"Each university should work with their local students' union to ensure that fine levels and regulations do not disadvantage students attempting to study.
"The gap between fines charged and fines collected suggests that there are robust procedures to allow students to cancel debt in certain circumstances."
Collection gaps
The total charges is £987,535.57 but is likely to cross the £1m mark taking into account two universities, Glyndwr and Bangor, who said they could not produce figures.
Bangor could not produce figures for the amount collected either which would probably have taken the total over £600,000 as it stands at £594,181.12.
Cardiff and Swansea universities produced the largest gaps between the amounts they charged and collected.
Cardiff, which has around 27,000 students waived or have not collected a total of £210,169.13, while Swansea had a £124,036.24 gap.
All the universities said there could be a number of reasons why many fines are waived including books or equipment eventually being brought back after being assumed lost.
Extenuating circumstances are also cited for reasons fines are waived.
They also say the money collected is reinvested in library services.
Sam Reid academic and university affairs officer at Cardiff university students' union said there was a "vicious circle" with the fines system.
She said students would accept fines in order to hold on to their books if it means they can finish their work, but admitted waiving fines does lead to a loss in funding that would benefit students.
'Providing resources'
"It's something we need to look into and I meet regularly with the head of the library," said Miss Reid.
"We are looking at innovative ways of providing resources like using online."
Steve Williams, deputy director of information services and systems at Swansea university said: "The money collected goes into providing front line resources and services to students - including staffing the library and IT desks and providing staff in the Library that are onsite until midnight.
"We are open until 2am Sunday to Thursday and 10pm Friday and Saturday, which we believe are still the longest opening hours in Wales but have not checked recently.
"These extended opening hours have been requested by students and the students' union with whom we work closely, and fine income supports these extended hours and better services."
A spokesperson for the University of Glamorgan said: "Our main rationale for imposing fines is to encourage the timely return of books and equipment, rather than to generate income per se.
"The money we collect in library fines is part of the budget we use overwhelmingly to purchase books and maintain subscriptions to journal literature."
University of Wales Institute Cardiff said its' library budget is "not reliant upon fines income" while the University of Wales Trinity St David, which has 6,000 students, said fines are "not an income generating exercise".