Wrexham sale 'agreed in principle', says trust and club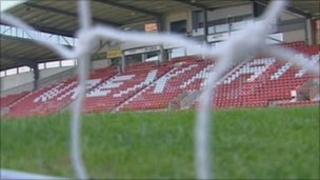 A takeover of Wrexham FC has "largely been agreed in principle" but will not be completed before Friday's deadline.
A joint Wrexham FC and Wrexham Supporters' Trust statement said the deal was "very much alive".
They said the sale would be concluded as soon as possible once a number of minor issues had been sorted out.
Wrexham Supporters' Trust (WST) was originally given until Friday to complete the takeover after a rival bid was submitted.
The joint statement said: "Wrexham Football Club and Wrexham Supporters' Trust are pleased to announce that the sale and purchase agreement has largely been agreed in principle, subject to clarification of a small number of points, completion of due diligence and approval by the football authorities.
"The proposed takeover will not be completed by the suggested deadline of Friday, September 16th, as originally proposed by the owners.
"However, both parties would like to reassure supporters that the deal is still very much alive and that they are working as quickly as possible to complete the deal."
The statement said both parties had identified "some small points of clarification, which will hopefully be resolved very soon in a face-to-face meeting".
Winning promotion
"Following this meeting it is envisaged that the deal will be concluded and that the requirements of the football authorities will be met and ownership transferred to the WST," added the statement.
"The owners and the board of the WST have issued this joint statement as a signal of their intent to supporters and the manager, Dean Saunders, to conclude this deal as soon as possible.
"This will then enable Dean, his players and the supporters to focus on winning promotion back to the Football League."
Last month, members of the trust voted unanimously to back plans to take control of the club.
The trust said at the time it expected the deal to be completed "within a few weeks", subject to concluding negotiations and satisfying the demands of footballing authorities.