Long tailbacks on M4 at Ynysforgan after crashes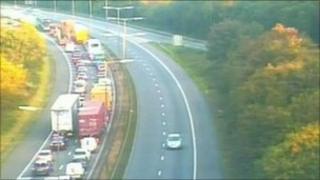 There are long tailbacks on the both sides of M4 near Swansea after collisions involving a number of vehicles.
Both eastbound and westbound sections were partially blocked between Ynysforgan and Llansamlet, but they are now reopen.
Two lanes at junction 45 westbound were affected by a multi-vehicle crash.
A three or four vehicle collision blocked one lane eastbound.
The vehicles involved in the incidents have been moved to the hard shoulder.
The collisions occurred at around 08:00 BST.