Trapped miners: Families and friends 'bearing up'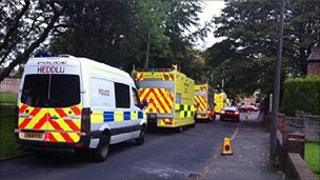 Families and friends of four miners trapped in the Swansea Valley are bearing up remarkably well, says the local vicar.
Rev Martyn Perry of Cilybebyll parish, near the Gleision Colliery, said people were "taking heart" from the rescue.
Charles Breslin, 62, David Powell, 50, and Garry Jenkins, 39, from the Swansea Valley, and Phillip Hill, 45, of Neath, have been trapped since early Thursday.
Neath MP Peter Hain said it was "harrowing" for families and friends.
Families and friends have been receiving support at the nearby Rhos community centre, less than a mile away from the mine.
Local people have been bringing cakes and biscuits to the centre, and people there are being cared for by the Red Cross and Women's Royal Voluntary Service (WRVS).
It has now been nearly 24 hours since news broke that the miners were trapped 90m (295ft) underground in the flooded mine, but Mr Perry said local people were coping.
"People are taking heart from the expertise of those who've been brought into the area from all over the country to help with the rescue effort," he said.
"So people are bearing up remarkably well because, of course, nothing can quite prepare you for this kind of thing."
Neath MP Mr Hain said nobody should be under any illusions that this was a "grim situation" and he said the families were going through a "minor form of hell".
He explained family and friends of the miners were "tearful, worried, beside themselves with worry".
"You can imagine, or maybe you can't, maybe nobody can imagine until they've been through that themselves," he said.
"I know some of them, my grand daughter's best friend's uncle is down trapped underneath. These are close communities."
Huw Evans, deputy mayor of nearby Pontardawe, said the incident had "rocked" the entire community, but the people were pulling together.
He said: "I was here last night and I was quite impressed actually how buoyant the families were, and how positive they were feeling.
"But clearly now this is 24 hours in almost and clearly there must be a real worries about the welfare of those men."
Divers have entered the flooded mine to help free the miners trapped 90m (295ft) underground.
But debris was said to have made the water too murky for them.
Rescuers have made no contact with the trapped men but are optimistic they will be freed.
Two other miners managed to escape while a third is in a critical condition.
Amanda Brewer of the WRVS is supporting people at Rhos community centre.
"There are one or two that are looking in quite a bad way," she said.
"There are a couple there who are upset, a few younger ones, obviously. (They) might have dads or brothers up there and it's getting quite upsetting because the time's going on now and they're getting very eager.
"But we're just doing our bit, helping everybody make sure they're kept warm, cups of tea."
Bethan Jenkins, Assembly Member for South Wales West, said it was important people supported the small south Wales community.
"I think a lot of them (family and friends of the miners) were concerned about the water levels because of the time lapse that has gone now from them knowing, and from them not having had contact with their loved ones.
"It's important now that everybody in this community and the UK and the world supports what's happening here in a small area of south Wales."