Hymn singing revival led by Rhondda vicar Paul Bigmore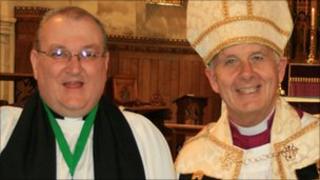 A vicar has set himself a challenge to revive community hymn singing across Wales.
Rhondda-based Father Paul Bigmore says the singing known as the cymanfa ganu was once the highlight of church and chapel life.
Archbishop of Wales Barry Morgan said he hoped it had a new lease of life.
A launch service was held at Father Paul's church, St Anne's in Ynyshir on Sunday, with the congregation led through traditional and modern hymns.
Fr Bigmore plans to stage two cymanfa ganus - the Welsh name for congregational singing - every year.
One will be in north Wales - which will be in Bangor Cathedral next spring - and one in the south.
There are also plans for a training day for young conductors and organists to pass on the skill of conducting this particular form of community singing.
The scheme is the latest development of the Music in the Community initiative set up by Fr Bigmore 13 years ago "to bring music back into people's lives by encouraging them to perform and by bringing concerts to their doorsteps".
He has written 75 hymns, and he says such singing is part of the "Welsh DNA".
"Music brings people together. When we hear great hymns our spines tingle -whether they are sung in Sunday service or performed with a modern twists by artists such as Only Men Aloud!.
"They are part of our identity and culture and we need to rekindle that spirit before it dies out," he said.
He hopes this will be the beginning of a revival of cymanfa ganus as "a celebration of our treasure trove of hymns in both Welsh and English".
It was also a chance to discover and provide a platform for new talent and modern hymns, he added.
Dr Morgan said there was a "wonderful warmth and joy" when people came together to sing hymns.
"The cymanfa ganu was a real festival of singing which brought the community together."