Ramblers welcome Taith Ardudwy Way and Chepstow walks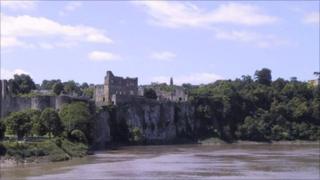 Two new footpaths are being officially opened at opposite ends of Wales which it is hoped will promote the nation as a prime area for walkers.
Taith Ardudwy Way covers 26 km (16m) in south Gwynedd using existing footpaths and is said to take three days to complete across three sections.
Meanwhile, the latest part of the Wales coast path to open will stretch 9.5km (5.9m) from Chepstow in Monmouthshire.
Ramblers groups said such paths can attract visitors and aid the economy.
Completion of the 1,368km (850m) Wales coast path is scheduled for next May.
The Taith Ardudwy Way trial goes from Barmouth to Llandecwyn, and is described as a "mid-level" walking experience using existing public footpaths.
There is also an emphasis on the use of sustainable transport to begin or return along sections of the trail, using road or rail connections.
"Apart from the joy of walking in such a beautiful part of the country there is now a wealth of evidence about the health benefits associated with walking," said Denis McAteer, chairman of Ramblers Cymru.
"This new trail will provide increased opportunities for everyone to get out in the fresh air and, if properly promoted, and could attract new visitors to the area and bring direct benefits to the local economy," he added.
In south Wales. the latest section of the coastal path snakes from Chepstow to the Severn Estuary.
It then follows the sea defence wall to Monmouthshire council's picnic site at Blackrock, near Portskewett.
Over the past four years the council has been making improvements to rights of way on or near to the coast as part of the Welsh Government's coastal access improvement programme.
Voluntary coast path wardens are said by the council regularly to check the path to keep it clear of vegetation and litter, report problems and undertake minor repair work.
Two stones bearing the coast path logo at Chepstow will mark the official start point, where the route will be opened by Environment Minister John Griffiths.
There are plans to commission an artist to enhance the area around the stones to create an "iconic" gateway to both the start of the Coast Path and its link to Offa's Dyke Path National Trail.
"We are extremely grateful to the many businesses, landowners and individuals who have worked with us to achieve a coast path in Monmouthshire," said Ruth Rourke, the council's principal countryside access officer.