Welsh mine deaths: More backers for Gleision appeal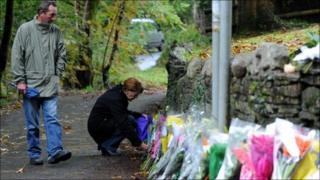 The First Minister and Archbishop of Wales are among patrons announced for the appeal fund for families of four miners killed in the Swansea Valley.
The Prince of Wales, who is the royal patron of the appeal, has voiced his "deep sadness".
Donations to the Swansea Valley Miners Appeal Fund had reached £50,000 by Monday.
Welsh Secretary Cheryl Gillan said the UK government would pay the equivalent of Gift Aid - adding 25% to the fund.
Mrs Gillan, another patron of the fund, said: "No one could fail to have been touched by this tragedy and the response to this appeal is heartfelt.
"Since the terrible events of last week people have donated generously to the Appeal Fund and I hope they will continue to do so."
She said paying the Gift Aid equivalent of 25% on top of all donations received would make a "significant difference to the appeal".
Neath MP Peter Hain said the total would be distributed to the families by the South Wales National Union of Mineworkers.
Hazard
Phillip Hill, 44, Garry Jenkins, 39, David Powell, 50, and Charles Breslin, 62, died after they became trapped in the flooded mine near Pontardawe on Thursday morning.
Three miners managed to escape as flood water engulfed the mine's shaft when a retaining wall holding back a body of water underground failed.
One was taken to Morriston Hospital in Swansea, where he has remained, while the other two joined the rescue effort.
Health and Safety Executive specialist mine inspectors have been on site working closely with the police.
Clarence House said Prince Charles and his wife, the Duchess of Cornwall, also sent a private message to the families of those who died.
Tyrone O'Sullivan, one of Wales' best-known mining figures, said he knew Gleision Colliery had been inspected within the past year.
But he said such small mines should be no more dangerous than larger ones.
Mr O'Sullivan, who ran Tower Colliery, the last deep pit in Wales before it closed, said the inspectors must be allowed to do their work.
He told BBC Wales that operating near old workings which contain water was always a hazard.
"You can follow the rules in the same way you drive a car but when you are in the bowels of the earth and Mother Nature decides to take a hand... sometimes a stone looks well supported and it's not... for all you know there could be a reservoir behind it.
"Water is always a danger - you must always realise that the other side of the wall there could be water because the surface water permeates through, but if you ever think you're near those places, you drill holes and leave them to see if water gets in.
"There's rules and regulations to work a coal mine and if you abide by those rules, they are there for all to see.
"These small mines shouldn't be any more dangerous than the larger ones. This mine we're talking about is only down 300m, whereas Tower colliery was three-and-a-half miles underground."
He said the inspectors would be looking at safety reports relating to the mine and checking all regular visits had been carried out.
"There will be reports from the three people who got out, they will say what was happening prior to the water breaking in so at least there's some people who can shed some light on it.
"I know that the Gleision colliery had been inspected by Her Majesty's Inspectorate in the last year so there is proper cover."
The incident began on Thursday morning when emergency services were called to the drift mine at Cilybebyll.
Water that was blocking the miners' exit was pumped out of the mine, and oxygen pumped in, but when divers moved into the mine early on Friday the body of Mr Jenkins was discovered at the bottom of the main shaft.
Mr Powell was found at lunchtime, believed to be close to where he was working.
Police confirmed during Friday that the remaining two bodies, of Mr Hill and Mr Breslin, had been discovered.
Mr Hill was from Neath and the other three men were from the Swansea Valley.
On Sunday Facebook took down what it called an offensive page set up after the tragedy, and removed the profiles of its creators.
A number of people contacted BBC Wales to say they had complained to Facebook about the page.
A Facebook spokesperson said: "Online and off, a tiny minority of people are intent on causing offence to others.
"At Facebook, we have built rigorous reporting tools that enable people to report content that makes them feel uncomfortable. If content breaches our terms, it will be removed."
Ian Morgan, an National Union of Miners official based in the Rhondda valley, said: "I hope they catch the people responsible for this as quickly as possible. It is thoroughly sick."
South Wales Police confirmed that a significant number of complaints about the site had been received and it was now under investigation.
A Week In Week Out special on the tragedy will be shown on BBC One Wales at 20:30 BST on Monday, 19 September.