Wales fan Michael Dye's family complain about coverage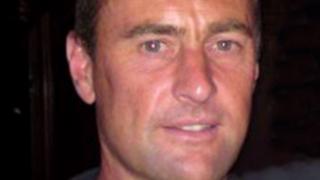 The family of a Wales fan who died after suffering head injuries at Wembley have complained about some of the media coverage of the incident.
The Press Complaints Commission (PCC) is investigating after 68 complaints about coverage of Michael Dye's death, primarily in The Sun and Daily Mail.
Complaints were received from Mr Dye's family and Cardiff City, said the PCC.
The Sun said it had not yet received a complaint from the PCC. The Daily Mail has been contacted for a response.
Mr Dye, 44, of Cardiff, was found injured near Gate C of Wembley stadium before the Euro 2012 qualifier match against England earlier this month.
A 41-year-old man from Worcestershire, Ian Mytton, has been charged with manslaughter. Ten other men have been arrested in relation to the investigation.
The PCC said the complaints were made under clauses one (accuracy) and five (intrusion into grief or shock) of the Editors' Code of Practice.
"At the time of publication, we proactively sought to contact Mr Dye's family to see whether they had any concerns about the coverage, and to offer our services more widely," said a PCC spokesperson.
"This is an approach we would take as a matter of course in relation to significant stories and when we receive complaints where there is an obvious first party to the material.
"I can confirm that we have now received a complaint from Mr Dye's family under clauses one and five of the editors' code."
'Acted insensitively'
The PCC, an independent body which deals with complaints about the editorial content of newspapers and their websites, said it was now seeking additional information from the family and would then take the complaint forward.
Mr Dye was a keen Cardiff City supporter and the club had also complained to the PCC about coverage of his death.
The PCC has confirmed it would investigate the club's complaint, which said certain newspapers had "acted insensitively".
If the complaints are upheld, the publications involved would be required to publish the text of the decision in full.
The PCC says many complaints are resolved through mediation so "it would not be appropriate to speculate about the outcome of the complaints at this stage".
The Sun said it had not yet had a complaint from the PCC but if it received one, would deal with it through its normal channels.