Alcohol Concern Cymru: End pub energy drinks promotion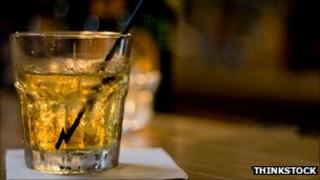 An alcohol campaign group wants pubs and clubs to stop promoting caffeine energy drinks as mixers for spirits.
Alcohol Concern Cymru claims they can mask the effects of alcohol so drinkers may be less aware of how drunk they are.
It wants producers to carry warnings in their marketing campaigns.
But companies said the energy drinks only contain about as much caffeine as an average cup of coffee. Pubs say all drinks should be consumed responsibly.
Alcohol Concern Cymru says sales of energy drinks such as Red Bull, Rockstar, Relentless or Monster have soared in recent years.
Some pubs and clubs offer then as mixers for spirits such as vodka and tequila.
Concerns have been raised about caffeinated alcoholic drinks in countries including the US, Canada, Australia and Scotland.
The campaign organisation called on energy drink companies to highlight the possible dangers of the caffeine drinks in marketing campaigns and urged bars and clubs to stop promoting them as mixers.
Alcohol Concern Cymru's Andrew Misell said there was a lack of guidance about the dangers of mixing high-caffeine drinks with alcohol.
He said both caffeine and alcohol were diuretics.
"Mixing energy drinks with alcohol can leave drinkers badly dehydrated, possibly leading to vomiting, nausea, and other health problems in the long term," he said.
"What's more dangerous, perhaps, is that the stimulant effect of so much caffeine can mask the depressant effect of the alcohol.
Responsible drinking
"People drinking energy drinks with alcohol may feel very alert and not realise how drunk they are. One possible result of this is that drinkers will take more risks."
The charity's Drink Wise Wales website has an alcohol and energy drink counter showing the amount of alcohol, caffeine and sugar in common energy drink cocktails.
Dr Tony Jewell, Chief Medical Officer for Wales, said the cost of treating alcohol-related health problems in Wales currently stands at £70m to £85m a year.
"We would consider mixing caffeine drinks and alcohol risky behaviour, especially if people drink excessive amounts," he added.
He said it increased the risk of heart disease, other conditions from alcohol misuse, and, because they often contained high levels of sugar, obesity and tooth decay as well.
The British Soft Drinks Association, which represents many of the energy drink makers, said typically they only contained as much caffeine as a cup of coffee.
"People who drink alcoholic drinks should drink them in moderation, whether energy drinks are used as a mixer or not," it added.
A spokesman for The British Beer and Pub Association said: "All drinks should be enjoyed responsibly, and the industry is investing and promoting responsible drinking, particularly targeting younger drinkers.
"Irresponsible promotions in pubs are not permitted under the new mandatory code on alcohol sales, but this a judgement call made on a case-by-case basis".