Algae warning at Penrhos Coastal Park Nature Reserve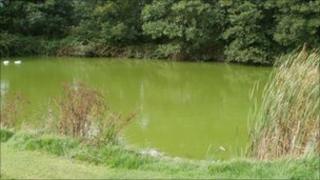 Visitors to an Anglesey nature reserve are being warned about an algae which can cause nausea and vomiting.
Signs have been put up warning people to avoid contact with the water in two ponds at Penrhos Coastal Park nature reserve in Holyhead.
Environment Agency Wales said the build up of algae, or cyanobacteria, was a natural occurrence and could not be treated or removed.
Anyone with health concerns is asked to contact their GP or NHS Direct Wales.
The algae produces toxins which can cause conditions such as skin rashes, fever and headache if swallowed.
Occasionally more serious illness can develop such as liver and brain damage. Children are said to be at greater risk than adults of developing problems.
Visitors are also asked not to allow pets to come into contact with the water.
The site is owned by Anglesey Aluminium Metal.