Welsh mine tragedy: Manic Street Preachers donation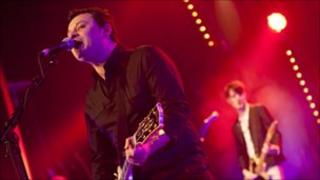 The Manic Street Preachers have given cash to an appeal for families of four miners killed in the Swansea Valley.
Neath MP Peter Hain, who helped set up the fund, said on Twitter that the band phoned him to pledge a "substantial donation".
He said a "mass of donations" at his Neath office had probably now taken the total over £100,000.
A collection will be held at Chelsea's Premier League clash against Swansea City on Saturday.
Mr Hain said: "We've just been deluged with donations. I've had a call from a local company donating £10,000.
"I had 200 letters in this morning from places as far away as France, and right across Britain and Wales.
"I had hoped for a big response but I hadn't expected this.
"I think both the tragedy itself and the way it was so tortuously strung out hour after hour, with hopes raised and smashed to smithereens, has moved people in a way most tragedies don't."
The appeal has several high-profile patrons including Prince Charles and Archbishop of Wales Dr Barry Morgan.
The UK government has also agreed to pay the equivalent of Gift Aid which will add 25% to all donations.
Safety inquiry
The appeal cash will be given to the families by the South Wales branch of the National Union of Mineworkers, which helped create the fund.
Phillip Hill, 45, Garry Jenkins, 39, David Powell, 50, and Charles Breslin, 62, died after they became trapped in the flooded Gleision Colliery at Cilybebyll near Pontardawe last Thursday.
Three other miners escaped, one of whom was taken to Morriston Hospital in Swansea.
An inquiry has been launched into the cause of the incident with safety experts promising lessons would be learned from the investigation.
The Health and Safety Executive (HSE) said it was too early to know what caused the mine shaft to flood with water.