Newtown family support centre's Powys 'vital services'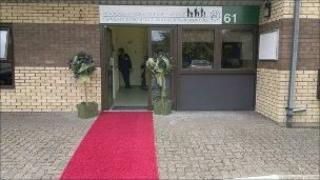 A new family centre in Newtown which will bring together Powys services such as childcare and adult learning has been officially opened.
The centre was set up by Powys council and domestic abuse charity Montgomeryshire Family Crisis Centre.
It will provide health services and education, as well as offering advice and support to families.
First Minister Carwyn Jones, who opened the centre, said it would be a one-stop shop for many vital services.
"It is essential that we all work together in developing our services for children and their families, and I am always greatly encouraged when I see work that is going on locally to address local needs," said Mr Jones.
The centre will also offer the Welsh Government's "flying start" programme which helps children up to the age of three in the most disadvantaged communities in Wales.