Anger at vandalism in Alyn Waters Country Park, Wrexham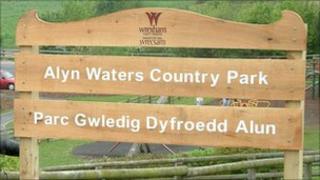 Vandals are "hell bent" on destroying Wrexham's Alyn Waters Country Park, say volunteers.
Jim Porter, of the Friends of Alyn Waters group, said there had been a spate of deliberate fires in which trees were destroyed.
Other recent incidents included thieves targeting a pond for disabled children and the shooting of two buzzards.
North Wales Police said officers were working hard with partners to combat the problems.
The 400-acre park, which is popular with families, offers wildlife, play areas, riverside walks and off-road cycling.
"The fires have gone on for a few years but are increasing in frequency and the damage is getting more volatile," said Mr Porter.
"It's just unfortunate we've got this element hell bent on destroying it."
He said hundreds of people sometimes congregated in the park after dark and vandals sometimes posted their anti-social behaviour on websites.
Dead buzzards
"I was walking the dogs in the park the other day and I was taking pictures of saplings that had been broken," he said.
"It's vandalism on a grand scale. We had six fires in two days in the summer.
"We've been trying to construct a dipping pond for disabled kids and it has been consistently vandalised.
"We've had funding to build the pond but we've never actually completed the project."
He said fishing club members found two dead buzzards a month ago that were believed to have been shot by air rifles.
Insp Paul Jones, of North Wales Police, said efforts to tackle the incidents were starting to have an effect.
"We are aware of the issues and are working hard with partners to combat the problem," he said.
"We have a multi-agency action plan which we are working on and the incidents are reducing."
Martin Howarth, Wrexham council's parks/countryside and rights of way manager, said damage to the pond area included broken fence rails and the wrecking of a gate.
"A large section of pond liner was cut out and removed. The pond liner had been purchased and installed by Alyn Waters Friends group earlier in the year," he said.
"A number of fires were lit in different locations in the evenings and several gorse bushes destroyed.
"All significant damage is reported to the police who have responded to reports made to them, including sending out forensic specialists."