Speed cameras record 24,000 offences in south Wales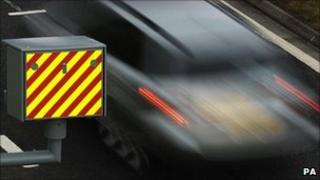 Newly-released figures have shown which speed cameras in south Wales have been catching the most drivers.
More than 24,000 speeding offences were recorded by 89 cameras in 2009, with 6,657 of them caught by average speed cameras on the M4 J30 (Cardiff East).
A further 2,114 drivers were caught on the M4 eastbound at J40 (Port Talbot).
But two separate Cardiff cameras, on Rhiwbina Hill and Greenway Road, Rumney, were triggered just once during the year.
The figures were released by South Wales Police under the Freedom of Information Act and are the most recent statistics available for speed cameras.
The Greenway Road camera and one at Glyncoch Terrace, Pontypridd, then had all offences cancelled.
All of the cameras run by the force netted a total of £706,020 in fines in a year.
One Rhiwbina resident, Gerald Ambler, said he had not been annoyed when the camera was installed near his home, and he did not consider it an eyesore as it almost blended with trees and a hedgerow.
Mr Ambler said the camera was doing its job very well, as it was intended to slow down traffic on a very busy road, rather than generate income.
Local councillor Adrian Robson said money could have been better spent on other safety measures.
He said: "Historically there were a few accidents caused by the low sun blinding cars as they came over the hill.
"But if the average speed was lower than the limit then why not change the layout of the road instead? Speed wasn't the problem."
There are more than 4,000 fixed Gatso speed cameras in use by police forces and local authorities across Britain.
Teresa Healy, of GoSafe - the partnership of police, councils and courts which operates the cameras - said: "Safety cameras are there to make roads safer not to make money.
"Excessive and inappropriate speed remains a major cause of collisions and the associated fatalities and serious injuries on our roads.
"Safety cameras play an important role in moderating driver behaviour and have contributed significantly to the impressive reductions in fatal and serious casualties."