Scale of Welsh police help in English riots revealed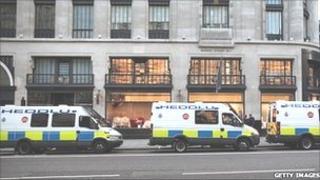 At least 250 police officers from Wales were sent to London to help tackle the summer riots, BBC Wales has learned.
Some were still there until just over two weeks ago, a month after the unrest died down.
The Welsh forces paid their salaries during that time, but will not have to cover other expenses like overtime.
The figures emerged as a report by South Wales Police chief constable Peter Vaughan briefed his police authority on his force's response.
All four Welsh forces supplied officers to help their Metropolitan Police colleagues during and after the unrest.
There were no riots in Wales during August and the four Welsh forces agreed to send officers to London, while North Wales Police also deployed to Manchester.
The forces can recoup the cost of overtime as part of the "mutual aid" agreement in which forces provide assistance to one another when dealing with, for example, major incidents.
Up to 1,700 officers from other forces around the UK were on duty in London on any given day during the disturbances.
South Wales Police said a total of 139 officers were deployed in London - 54 during the first week and other teams over subsequent weeks.
The force confirmed it paid their salaries during that time, but other costs such as overtime and accommodation costs were expected to be met by the Metropolitan Police.
Dyfed-Powys Police had police support units of 25 officers deployed in London for a total of 31 days during August and September.
"We are currently still formalising the administrative processes in respect of hours worked/overtime issues etc," the force said in a statement.
Its officers were still being deployed in London up until 11 September.
North Wales Police did not give a figure for the number of officers deployed, but said it was the equivalent of 778 days in staff hours.
"Public order-trained staff were provided on 'mutual aid' for a total of 20 days. These were not continuous and staff were rotated," said the force.
Gwent Police confirmed they had sent officers at various times during the unrest but would not give details of numbers involved.
The force said costs were still being finalised.
The Metropolitan Police said its total cost for staffing the public disorder from 6 August to 21 August was £83.5m, including overtime costs for other forces which sent officers.
South Wales Police Authority met in Bridgend on Monday where the chief constable provided an update on the force's response to the civil unrest.
Mr Vaughan said in his quarterly report: "The professionalism and response of our staff to such testing times was exemplary and the PSU [police support unit] officers who were required to attend London left a positive mark on the residents of Peckham.
Riot prevention
"Members have received a report highlighting the letters of gratitude and positive comments for the work carried out by our officers during their deployment in London."
Meanwhile deputy chief constable Colette Paul said that while Bristol - with a similar demographic to Cardiff - had witnessed rioting, the Welsh capital had been "relatively untouched."
She said lessons and planning from three "significant" incidents in Cardiff in the last 18 months may have helped to prevent rioting in south Wales.
Ms Paul listed these as the murder of Aamir Siddiqi, the English and Welsh Defence League march, and an operation which saw the arrest of five men for alleged terrorism offences.
But she said the force was not complacent and would look to learn from other forces and the national review into the cause and effect of the riots.