Black Eyed Peas to play Michael Jackson Cardiff concert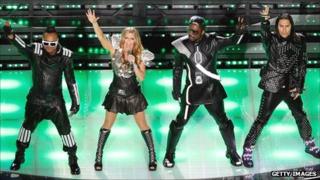 The Black Eyed Peas have announced they will perform at the Michael Jackson tribute concert in Cardiff.
Band member Will.i.am, who worked as a studio producer with Jackson, said the show would be "an incredibly personal and moving evening" for him.
Jackson's music has been "an inspiration" to his whole life, he said.
The Michael Forever concert will take place at Cardiff's Millennium Stadium on 8 October.
Days after Jackson's death on 25 June, 2009 at the age of 50, the Black Eyed Peas paid tribute to the Thriller singer during their performance at Glastonbury. They have continued to do so at every one of their shows since.
'Beautiful family'
Will.i.am added that Jackson's "great, great songs" had formed the soundtrack to his childhood.
"When I was a little kid of six or seven growing up in Los Angeles, there was Michael recording Thriller, and all his early hits, just a few miles away across town - obviously I didn't know him at that time, but I loved him as a fan," he said.
"Then one day about four years ago, with the Black Eyed Peas well-established, I got a call from him I will never forget. I then had the great privilege of working with him and getting to know him and his beautiful family."
He said the Black Eyed Peas would be proud to perform at the concert, as "we all owe Michael such a lot".
Michael Jackson's brother Marlon said the family was "delighted and touched" that the Black Eyed Peas would be taking part.
'Real star'
"My brother rated Will.i.am and the original things he does in music very highly. I guess you could say it was a case of mutual respect," he said.
The line-up will include performances from Beyonce via video link, singer and Oscar-winning actress Jennifer Hudson, Cee Lo Green, Leona Lewis, JLS, Jamie Foxx and Christina Aguilera.
Two of Jackson's brothers, Jermaine and Randy, have said the concert should not go ahead because it will clash with the trial of Conrad Murray, the singer's former doctor accused of involuntary manslaughter.
"It seems plain to me that the real star of this tribute to Michael is going to be the music itself," said Will.i.am.
"And that's the only way it should be."