Wales stages world vintage ploughing contest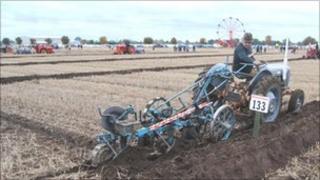 A world vintage ploughing contest has been held in Wales for the first time.
More than 100 competitors, from nine countries, ploughed individual plots in Carew, Pembrokeshire, using tractors dating from the 1920s to 1959.
Organisers say the key is to produce lines "straight and parallel like a pair of corduroy trousers", and with no weeds or "stubble" showing.
With no tractor cabs, competitors were warned they could get "very wet".
Retired farmer and event organiser Gordon Harries, 68, said the main thing was to "keep your ploughing straight".
"The lines need to be straight and parallel like a pair of corduroy trousers," he added.
"There must be no weeds or grass - we call it stubble - showing, and you must remain cool at all times and keep cool under pressure."
'More of a challenge'
Mr Harries, from St Florence, near Tenby, has been ploughing for 54 years and is this year's five nations champion, a competition between Wales, England, Scotland, Northern Ireland and the Republic of Ireland.
There is already a World Ploughing Competition, which was held this year in Sweden.
However, Mr Harries said ploughing with a vintage tractor is more fun than using new, modern machines, so he decided to launch the World Vintage Invitation Ploughing Championships.
"It's more of a challenge," he said.
"With a modern tractor you do everything from the cab because they are so technologically advanced, but with vintage tractors you have to do everything manually, setting the depth and width of the plough etc.
Silver cup
"You have to have a good eye too and be able to correct a mistake straight away. You must be able to concentrate too for the whole four hours of the competition.
"The downside though is that you don't have a cab, so if it rains you get very wet."
Competitors from England, Wales, Scotland, Northern Ireland, the Republic of Ireland, Germany, Belgium, the Isle of Man, and the Netherlands competed.
Some of the oldest tractors taking part are Standard Fordsons from the 1920s.
Mr Harries added: "You go to any ploughing match and 80% of the competitors are using vintage tractors. We felt it was time for a world championships."
The winner receives a silver cup and £100.