Chaplain Martin Lewis helps Namibia in Rugby World Cup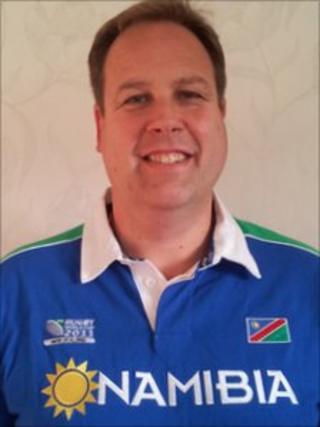 Former Bridgend player Martin Lewis will be among the crowd at Wales' next Rugby World Cup pool game on Monday.
But he will not be shouting for Wales - he will be cheering opponents Namibia.
The 48-year-old former lock who played 400 first-class games in Wales is chaplain to the African side for the tournament.
He said: "I will be wearing my Namibia jersey for the game. The lads are doing really well and I am doing my bit in encouraging them."
"And frankly if Wales can't win, they will have to ask themselves some questions," he added.
Back home in Wales, Mr Lewis' full-time job now is with Lloyds Bank, after a 12-year career in the 1980s and 1990s which saw him play as second-row against the Barbarians and for the Welsh Crawshays.
He is also chaplain to the Cardiff Blues academy and in New Zealand he is among a group from across the world working with the Christian charity Engage, to provide spiritual help for the Rugby World Cup competitors.
He was allocated Wales' opponents on Monday before he flew to New Zealand for the group stages.
'Fantastic'
He said: "To be honest it was an answer to a prayer because a month is all I could spare from my job, and Namibia has been a great team for me to support."
He described providing pastoral support for the Namibian team and engaging in a family hosting programme as "fantastic".
"It's been amazing to work with these lads," said the chaplain, who has not been required to impart any of his rugby know-how, but provides a listening ear for the players when they need it.
"They've been up for all the games. They are in the hardest pool. But they have worked hard and gelled as a team."
He said the New Zealanders had welcomed the Namibians, appreciated their open style of play, and what he called their gracious attitude.
He added: "We went to the town of Te Puke and the whole town was decked out in Namibian colours."
Mr Lewis, whose wife Heather is waiting for him back home in Dinas Powys, along with children Kathryn, Debra and Emyr and a new grandchild, was invited to give the team a pre-match devotional pep talk before their game against Samoa.
He said: "It's been really interesting to see how they embrace their Christianity.
"It shows that faith and sport can go together if it's done properly."