'More emotional support' call for cancer patients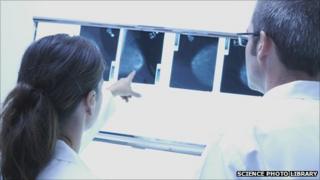 Claire Traylor from Swansea was diagnosed with breast cancer in July last year.
She said more non-medical support during her treatment would have been beneficial.
"With all the medical professionals, the health professionals, every single person I came into contact with was absolutely superb," she told BBC Radio Wales.
"However the only thing I wish would have been offered maybe from the onset is a specific one-on-one counselling for a longer period of time.
"Although I did have a number for specific breast cancer nurse, I wanted somebody I could speak to face to face for maybe an hour, or a little bit longer, to just go through the things that were going on in my head."
She was speaking as a new in-depth study was published by the Welsh Cancer Intelligence and Surveillance Unit (WCISU).
More people are being diagnosed with cancer but more are surviving.
"In the very beginning you're in such shock you really don't know where to begin, and I do think that if counselling was offered to me at the very, very beginning instead of me having to look for it nine months on, or eight months on, I think that would have helped a lot."
Cath Lindley, general manager for Wales MacMillan Cancer Support, said the charity regularly heard from cancer patients who wanted more emotional support.
'Well organised'
She said the needs of people affected by cancer are changing and not everyone is getting the treatment and support they need, when they need it, particularly post-treatment and non-clinical treatments.
"It's absolutely critical that people get the right treatment at the right time to deal with their cancer," Ms Lindley told BBC Radio Wales.
"Not giving people the emotional and psychological support they need, not addressing their financial issues and the physical impact of having cancer treatment, does have an economic impact later on down the line because people go back into health services more frequently than people who haven't had cancer unless those needs are addressed."
According to Prof Karol Sikora, one of the UK's leading cancer specialists, services for cancer in Wales are "very well organised".
"There's no doubt that cancer services in Wales have really had a lot of thought put into them over the last 10 years and the results are actually better in many cancers than the rest of Britain," said Prof Sikora, medical director at Cancer Partners UK.