'Golden ticket' charges dropped against Peter Ridsdale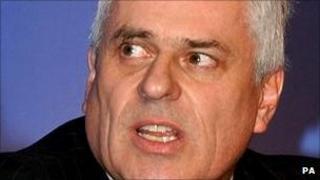 Ex-Cardiff City chairman Peter Ridsdale has had all charges dropped against him over a 'golden ticket' promotion he launched with the Bluebirds.
It was alleged that Mr Ridsdale, 59, misled fans when he offered to put money from early season ticket sales towards new players.
But Cardiff Magistrates' Court was told on Tuesday that Cardiff council was dropping its prosecution.
Mr Ridsdale said later the case should never have come before the courts.
"Today's decision by the City of Cardiff trading standards agency to offer 'no evidence' in relation to the charges previously brought to the courts is a complete vindication of my publicly stated position that there was never a case to answer," he said in a statement.
"It is most unfortunate that this case was brought before the courts and that it has brought disruption to my personal life and unnecessary reputational damage.
"I spent five years in the wonderful city of Cardiff and sincerely believe that my contribution to saving the football club from financial meltdown, building both the new stadium and training ground, and taking Cardiff City to three Wembley appearances, speaks for itself.
"I am proud of my contribution to this city and today walk away from the courts completely innocent of any wrongdoing."
Mr Ridsdale had appeared before magistrates accused of fraud and breaching consumer protection regulations.
In December 2009, Cardiff City said cash raised from early season ticket sales would be spent on new players in the transfer window the following month.
But the club later said no new players would be bought and fans complained to Cardiff council's trading standards department.
'Good faith'
Fans had also been told their money would be refunded if Cardiff secured promotion to the Premier League that season, but the Bluebirds missed out after losing to Blackpool at Wembley.
A council spokesperson said the prosecution was brought in response to a "number of concerns expressed by supporters who bought into the golden ticket scheme in good faith".
"On paper, there was a case to answer, however, the council has recently obtained further evidence from prosecution witnesses and taken the advice of a leading counsel," said the council.
"After a thorough analysis of this new evidence, and due to the reluctance of those supporters who raised concerns to provide witness statements, the council considered that a conviction after trial was unlikely.
"Consequently, the council has decided to discontinue the prosecution."
Mr Ridsdale, who stood down as Cardiff City chairman in May last year, is currently acting chairman at Plymouth but plans to stand down once a takeover of the club has been completed.