Ruth Negga on challenge of playing young Shirley Bassey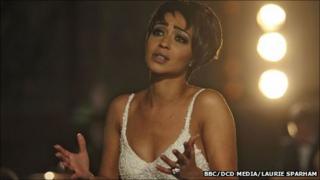 The young actress charged with the challenging task of playing Shirley Bassey in a film about the singer's early life says she is both "honoured and scared".
The BBC2 production Shirley, shown on Thursday, stars Ruth Negga, star of E4 drama Misfits.
Her previous credits include acting opposite John Malkovich in the 2005 film Colour Me Kubrick, as well as other TV appearances in Doctors and the BBC mini-series, Criminal Justice.
But Negga, the daughter of an Ethiopian father and Irish mother, believes this has been by far her most challenging role, as the drama traces Bassey's early years in the Cardiff docklands and later Splott.
"I found the Tiger Bay accent so, so difficult," Negga told BBC Wales. "My own accent is Irish, and even though we're all Celts, I had no idea how different it was going to be.
"So I've listened to hours and hours of tapes and interviews and YouTube clips, and practised, and basically just done my best."
Performing in her first singing role was also daunting.
"Her voice is so unique and, well, unparalleled really, and I'm not the best singer in the world.
"So when we filmed, I had Shirley blasting from the speakers, so I could sync along. But I concentrated more on her performance, immersing myself in hours of her on stage to try and pick up her nuances."
'Vibrant'
The drama, which will show Bassey's difficult rise from poverty to international stardom, is part of programming looking at mixed race culture in BBC2's autumn schedule.
It will focus on her early life as the youngest of seven children born to a mother from Middlesbrough and a Nigerian seaman father who abandoned the family before she was two.
Since coming to prominence as a 16-year-old in 1953, she has sold more records - 135 million - than any other woman.
Variously portrayed as a diva, a sex symbol and as a tortured, shy person, all of her personas have been informed to some extent by her tough upbringing in the Tiger Bay area around Cardiff docks, and later just up the road in Splott.
It is this colourful yet troubled environment which most attracted Negga to the role.
"I was fascinated by Tiger Bay, it's not somewhere that I'd ever heard very much about," she said.
"But in its heyday it sounds as though it was the most vibrant, lively mixed community outside of London. I think they may already have made a film about it, but even if they have, it's about time they made another one!"
But how does she think her performance will go down with the star?
"I think she'd like it?... I hope she likes it, because it's been done with a lot of love and respect.
"A lot of people have asked me if I'd like to meet her. And I'd love to meet Dame Shirley, but only if she likes it!"
Shirley is shown on BBC2 at 21:00 BST on Thursday, 29 September.