Mountain biker Dave Buchanan sets new Guinness record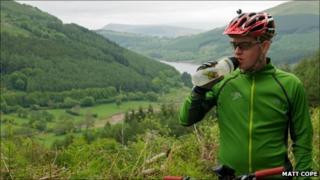 A mountain biker has set a Guinness world record with an epic non-stop ride across Wales and back in howling rain.
Dave Buchanan, 41, from Hengoed, Caerphilly, set a new record category by cycling 571 km (355 miles) between Cardiff and Caernarfon in 48 hours.
He finished the trip in just over 59 hours, covering 721 km (448 miles), while climbing the height equivalent of Mount Everest two and half times.
Guinness World Records this week confirmed the ride, completed in May.
Mr Buchanan had the option of setting the record, for the greatest distance on a mountain bike in 48-hours, on an athletics track.
Instead, he chose to use his own route across Wales which was 70% off-road.
What he had not bargained for was the weather, with wind and rain in his face from Cardiff Bay to Caernarfon.
And on the return trip, expecting the wind at his back, it suddenly reversed an hour in to the journey leaving him to fight against it all the way home.
Paragliding
It was the latest physical challenge for Mr Buchanan who was diagnosed with bowel cancer in 1993, and underwent six months of chemotherapy.
His fight for fitness has seen him swim, cycle and circuit train as well as be a civilian volunteer for an RAF mountain rescue team.
He took up paragliding but swapped that for mountain biking after a flying accident in 2003.
In his first 24-hour charity ride, he came third after cycling 170 miles, and in 2009 he completed the Welsh Coast 2 Coast ride from north to south Wales.
He said the planning for his latest achievement, dubbed the Hobbit's Tale, took two years, and going off road was key to helping him overcome his tiredness.
"The fact that you have to concentrate so intently on the trial does actually keep you awake," he said.
"It could have been completed on an athletics track but I don't think my mental fortitude would have lasted that long."
Mr Buchanan praised a team of 20 volunteers who joined him on the mountain stages.
'New record category'
"The simple fact that they are there meant that I had somebody to talk to as well. You cannot underestimate how much that contributed to my ability to do the route."
A spokesman for Guinness World Records said: "We recognise the greatest distance cycled in 48 hours on a mountain bike as 571 km (354.8 miles) by Dave Buchanan, cycling an off-road trail between Cardiff and Caernarfon, UK, from 13-15 May 2011.
"After the 48-hour mark, Mr Buchanan continued to cycle so as to complete a trek from Cardiff to Caernarfon and back to Cardiff that covered 721 km (448.01 miles) across more than 59 hours.
"This is a new record category."