Welsh Government hopes to end carrier bag 'blight'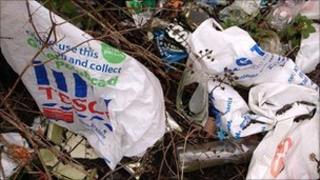 They have been labelled a "blight on our landscape" and a "waste of resources".
This is why politicians and environmentalists are hoping that charging for carrier bags will finally reduce the amount of litter they can create.
From 1 October, at least 5p will be charged for each single-use bag made from plastic, paper and biodegradable material at all shops in Wales.
The Welsh Government hopes that the levy will be high enough to encourage people to change their shopping habits and re-use bags.
Their argument for the levy is a strong one.
During 2009, shoppers took home an estimated 350m carrier bags from the major supermarkets - 273 bags for each household - according to the Welsh Government.
That figure does not include the bags given away when shopping at high street stores and smaller shops.
It is claimed each plastic bag can take up to 1,000 years to decompose, and may never break down in landfill.
'Protect wildlife'
Waste Awareness Wales says that even paper bags are not an environmentally friendly alternative, claiming they are still a waste of natural resources.
And it says that fully compostable bags also use natural resources, and if only used for one trip and not composted, are a bigger waste of resources than conventional plastic carrier bags.
Andrew Osborne, Waste Awareness Wales' recycling officer, said: "More than eight out of 10 carrier bags are disposed of in landfill - many more end up as rubbish. We simply cannot continue wasting our valuable resources in this way.
"The introduction of the charge will help tackle climate change, reduce litter and protect wildlife and natural resources. It's a great green step for Wales, and Waste Awareness Wales are proud to support it."
The Welsh Government is aiming to emulate the success story in Ireland, where a so-called "bag tax" was introduced in 2002 and reduced the number of carrier bags by up to 90%.
First Minister Carwyn Jones said that by re-using bags, people would be "contributing to a more sustainable Wales".
"Wales is leading the way in the UK by introducing a charge for single-use carrier bags. Our plans have been welcomed by people across Wales, and indeed the UK, as a positive way of addressing the blight of bags on our landscape and a waste of resources," he said.