Morlais Hall in Ferndale becomes museum of song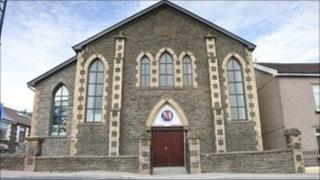 A 130-year-old south Wales valleys' chapel owned by a male voice choir is opening as a museum of music and song after a £300,000 restoration.
Morlais Hall in Ferndale will also still be the home of Côr Meibion Morlais.
The restoration has been funded as part of the wider Rhondda Life community regeneration project.
It has seen a new rugby club, a restaurant and there are plans for a gym and hotel.
The choir's musical director John Asquith, who is also chairman of Rhondda Life, said Morlais Hall was already being widely used by community groups.
"There are very few slots now during the week.
'Wow factor'
"We have a policy that we only hire out the building at cost - the building has to be for the community."
It has been kitted out with a lighting and mixing desk and is also a full performance venue.
The Living Museum of Song and Music within the hall tells the story of the area's musical history.
Ray Condon, one of the choir's oldest members, said it had a real "wow factor".
"I think it's the most important building in Ferndale," he added.
"What I've noticed the most is the people's reaction when they come in - it's just wonderful."
The project has been funded by the Heads of the Valleys programme.