Cheryl Gillan claims Welsh Government is too 'timid'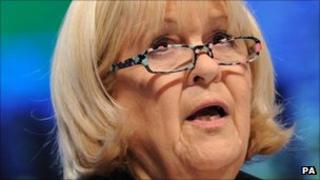 Welsh Secretary Cheryl Gillan has accused the Welsh Government of ducking key decisions and adopting a "timid" approach.
She told the Conservative Party conference in Manchester that Labour decisions had led to longer NHS waiting lists and a weaker economy.
Mrs Gillan said opponents who accused her party of not caring about Wales were "just plain wrong".
Shadow Welsh Secretary Peter Hain said her comments were "empty criticism".
The Conservative conference opens on Sunday and lasts until Wednesday.
Mrs Gillan also highlighted Ed Miliband's praise for First Minister Carwyn Jones's administration.
Mrs Gillan said: "Conference, our opponents say the Conservative Party doesn't care about Wales.
"They say Wales gets less money, is facing deeper cuts, and that we don't understand devolution. They are just plain wrong."
The Welsh Secretary added that she made no apology for what her party was "seeking to achieve for Wales", but Labour still "clinged to power" in the Welsh assembly.
"Do you know, Ed Miliband has praised the way Labour is running the Welsh Government?" Mrs Gillan said.
"But under Labour you wait longer for hospital treatment. Less money is spent on school pupils than in England.
"And the Welsh economy is weaker than every other part of the United Kingdom.
"Labour's legislative programme is timid and uninspiring. Their plan for government vague. Labour is tinkering at the edges.
"They're not using the powers they've got. Or getting to grips with the challenges facing our country."
In her speech, the Welsh Secretary also mentioned a forthcoming review of the way Wales is funded, which will end the "something for nothing" culture in Cardiff, and what she called "power without responsibility".
Details of the so-called Calman-style commission are due to be announced to Parliament next month.
Labour's shadow Welsh Secretary Peter Hain said Mrs Gillan's comments were "empty criticism".
He added: "At the heart of the problem faced by our country is the lack of economic growth. As a result there are no job opportunities.
"The Tories will inflict another lost generation on our young people unless action is taken to reverse the Chancellor's strategy.
"The one sensible thing that Cheryl Gillan could do in Manchester is to put the case for jobs and economic growth in Wales."
In his conference speech, the Conservative leader in the assembly Andrew RT Davies said Labour appeared to have run out of steam and run out of ideas.
It has spent the summer dithering," said Mr Davies, who accused Labour of delays in its plans for enterprise zones.
He added: "The Welsh Government now has full and historic law-making powers. It intends to use them for allotments and cycle lanes."