Pride of Britain: Teacher Llew Davies on 'buzz' of work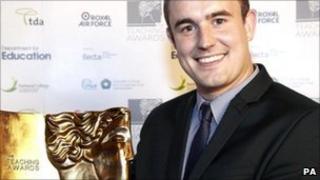 A teacher who has been honoured at the Pride of Britain Awards has spoken of the "buzz" he gets from his work.
Llew Davies, 29, who works at Ysgol Cae Top in Bangor, Gwynedd, said his reward was seeing the children learn new skills.
His work was also recognised for helping his school to achieve its best ever inspection report.
Tom Phillips, 11, from Monmouthshire, who saved his father when he was attacked by a bull, also won a prize.
The Pride of Britain Awards aim to celebrate the achievements of some of the nation's unsung heroes, and among those who attended on Monday were the Prince of Wales, senior politicians and celebrities such as Cheryl Cole and JLS.
Mr Davies, who was described as a teacher pupils will never forget, said the children's approach to life helped to keep him young.
'Big kid'
As well as boosting the standards across the school, he also helped his pupils to victory in a national science competition.
Last year Mr Davies, who is also the school's deputy head, won Teacher of the Year in the annual Teaching Awards.
"I'm a big kid myself too. I'm always looking forward to going into work as I know that when I go home I will have some great stories to tell.
"It's a buzz. When the children find out something for the first time or the penny drops, it's quite rewarding to see that.
"And the humour - children's perspectives can be quite amusing."
Mr Davies, who has been teaching for seven years, said he at first could not decide whether to follow his father in to milk production farming or to work as a teacher.
"I did some supply teaching work - it was hard to beat," he said. "The buzz in the classroom is fantastic. It's quite addictive, really."
Another winner from Wales was Tom Phillips, of Abergavenny, who was 10 when he saw a bull attack his father, Andrew.
The youngster jumped behind the wheel of a tractor and nudged the bull away, before driving to the farmhouse to get help from his mother, Amanda, who was unaware of the incident.
He then ran to neighbours to raise the alarm while Mrs Phillips rushed to help her husband.
After the incident he said: "I was a bit worried about driving the tractor but I just did what I had to do".
Highlights from the Pride of Britain Awards will be shown at 20:00 BST on ITV1 on Wednesday.