4x4 retrieved from Snowdon summit for second time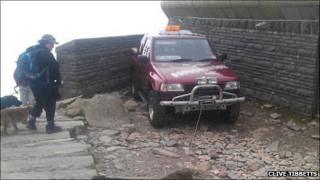 A 4x4 vehicle that was parked near the visitor centre on the summit of Snowdon last Thursday has been removed.
The vehicle was recovered on Monday by staff at the Snowdon Mountain Railway working with Snowdonia National Park Authority and North Wales Police.
A 39-year-old man has been arrested on suspicion of dangerous driving and released on bail after the incident.
It is the second time in a month that the 4x4 has been found on Snowdon.
Police have not named the man who was also arrested on suspicion of causing criminal damage.
Last month Craig Williams, also 39, of Cheltenham, was accused of dangerous driving and unlawful driving on common land, and is due in court on Thursday.
Police are appealing for information after Snowdonia Mountain Railway staff arrived to find the 4x4 parked near the visitors centre at the summit last Thursday.
It has not been confirmed who drove the Vauxhall Frontera up the mountain this time.