Welsh national parks see £1.9m green funding boost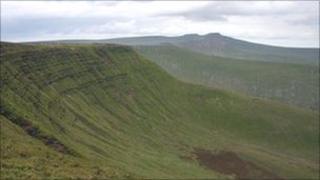 Efforts to encourage sustainability projects in some of the most picturesque areas of Wales have received a £1.9m boost.
The funding will be split between Wales' three national parks and its five Areas of Outstanding Natural Beauty (AONB).
It will be used to fund schemes similar to the Green Valleys project in the Brecon Beacon National Park.
That has seen communities install small scale hydro-electric generators.
The green electricity generated from mountain streams is then sold to the National Grid and the revenue shared.
It helped the village of Llangattock near Crickhowell in Powys to be named the greenest in Britain in a competition earlier this year.
Speaking at a seminar in Brecon, Welsh Environment Minister John Griffiths said he would commit £1.2m of Sustainable Development Fund money to the Brecon Beacons, Snowdonia and Pembrokeshire coast national parks and £700,000 to the AONBs over the next two years.
"These areas, along with our wider natural environment generally, are vital to the health and well being of people in Wales," he added.
The Sustainable Development Fund was established to encourage communities living in and around protected areas to develop sustainability projects.
Mr Griffiths said the Welsh government's decision to provide funding over a two-year period meant projects had time to develop and secure extra funding from other sources.