Celtic Manor Ryder Cup legacy 'broadens golf's appeal'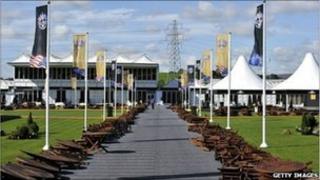 Wales is said to be viewed more often as a golfing tourist destination since it hosted the Ryder Cup a year ago.
In clubs around the nation the stereotype of players as white middle class men is also said to be changing, with more youngsters involved.
That is the verdict of people involved in ensuring the event leaves a legacy.
Since the tournament at Celtic Manor in Newport over 40 tours have been held for foreign reps interested in bringing overseas players to holiday in Wales.
Visit Wales, the government body responsible for tourism, says the latest available figures, for 2010, show a rise of 21% in holidaymakers listing golf as their primary reason for visiting Wales, which is worth about £42m to the Welsh economy.
A financial impact study carried out by Ryder Cup Ltd concludes that the tournament at the Celtic Manor Resort injected an additional £82.4m into the south Wales economy, with an estimated £28m of that going directly to Newport companies.
"Interest in Wales has not subsided since the Ryder Cup, there is an increased awareness of Wales as a golf tourism destination," said a Visit Wales spokesman.
He added that since the Welsh Government launched its Events Wales Strategy last year the plan has been to develop a "broad portfolio of high profile events which make the most of our unique heritage, culture and landscape, and enhance Wales' international profile and reputation".
Wales has recently secured an Ashes test match for 2015 and the British Senior Open Championship is to be held in Wales three times between 2014 and 2024.
Meanwhile, it was announced last week that the Womex World Music Expo is to be held in Cardiff in 2013 along with the Rugby League World Cup.
'Financial rewards'
Matthew Evans, leader of Newport council, said that while the Ryder Cup was a "fantastic" occasion, the economic downturn has muddied the waters when it came to the success of its legacy.
Mr Evans said: "It was a once in a lifetime opportunity for Newport to host the Ryder Cup and I would host the tournament again tomorrow if we had the chance. It really did put Newport on the map.
"One of the best things to happen to Newport as a result of the Ryder Cup is that people are interested in what is happening in the city.
"We are still getting interest and publicity a year on and expect more media interest in the build up to the tournament in the USA next year.
"Many local businesses gained directly as a result of the event although we always recognised it was not going to bring financial rewards for everyone, especially in view of the economic climate."
In the past 12 months, Golf Union Wales say that 40% more boys under 18, and 60% more girls have taken up membership, thanks to the 'Securing the Future' Ryder Cup Legacy Fund.
Ryder Cup Wales Legacy facilities officer Ellen Jones says: "This is as much about educating golf about the public, as it is educating the public about golf.
"Across the board membership of golf clubs in Wales has fallen by around 2.5% this year, but those clubs who've worked with us have seen their membership increase by roughly the same figure.
"It's about improving facilities and accessibility yes, but it's also about helping to sweep away politics and stuffiness, and helping golf clubs see the business case for being more inclusive.
"I think the junior figures in particular tell their own story.
"Gone are the days of golf being the preserve of white middle-class men.
"If nothing else, the Ryder Cup legacy in Wales is that golf is now truly a sport for everyone."