Coleg Cymraeg Cenedlaethol launches for Welsh language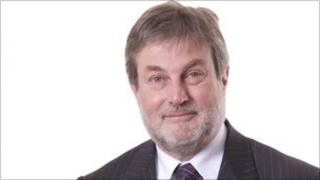 A "virtual" college which will expand higher education teaching through the medium of Welsh is beginning its first academic year.
Coleg Cymraeg Cenedlaethol will help degree students study a wide variety of subjects through Welsh language teaching.
Universities signed up are Aberystwyth, Bangor, Cardiff, Glamorgan, Swansea, Trinity St David's and Uwic.
Modules will be available in areas from law to biology.
Its chair, Prof Merfyn Jones, said the institution would be critical to the Welsh language.
Expanding Welsh medium higher education was promised by the former Labour-Plaid Cymru coalition government.
Previously, the availability of Welsh medium study in higher education has been regarded as patchy by many in the sector.
The Coleg works through existing universities in Wales and has established its own independent network. It will not be able to award its own degrees.
Students will study for degrees at seven partner universities, helped by their Coleg scholarships and gaining credits for the elements of the course they complete through the medium of Welsh.
A total of 109 students have been awarded scholarships this year, which are worth between £1,500 and £3,000 over three years.
PhD scholarships are also being offered by the Coleg.
Twenty-five lecturers have been appointed so far. With £1m in funding every year, the Coleg hopes to have more than 100 lecturers in post by autumn 2015
The academics will be expected to develop Welsh medium teaching within their subject areas.
'Massive investment'
The Coleg has been established as a limited company with a board of directors under the leadership of Prof Jones.
"It's a very, very exciting time for the Coleg Cymraeg Cenedlaethol and especially because we have secured a massive investment in Welsh medium higher education, something which has never happened before," said Prof Jones.
"Within three years that will be 100 new staff. There's endless activity at the moment."
Prof Jones said that ensuring those careers in the academic world would transform the nature of higher education in Wales.
"It is critical to the Welsh language," he added. "These are the people who will be able to use the Welsh language in all sorts of fields, in business, the civil service, in education."
"We've got to be able to produce a certain number of people in Wales who can conduct any conversation at the highest possible intellectual level through the medium of Welsh and that's what this is all about."
'Uninspiring'
Cymdeithas yr Iaith Gymraeg (the Welsh Language Society) said it was disappointed the new college had had an "invisible" start.
Ffred Ffransis, the society's education spokesman, said the birth of the college had been uninspiring.
"Its first students started officially a few days ago, but no-one has noticed", said Mr Ffrancis. "That's not acceptable, considering all the campaigning it took to establish it."
A strategic plan for the Coleg will be considered by its board of directors on 17 October
The Coleg's motto is "mynnwch ddysg yn eich iaith," which can be translated as "choose learning in your language".