Silent film actress Eleanor Daniels' plaque in Llanelli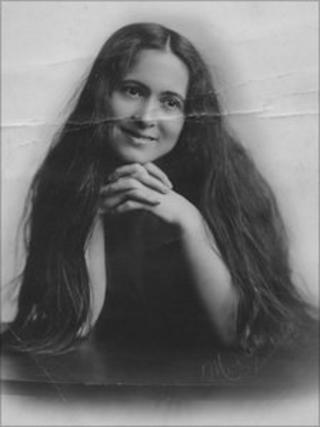 A blue plaque honouring a Welsh actress who took her talents from eisteddfodau to the United States has been unveiled at the house where she grew up.
Eleanor Daniels was in plays and silent films after World War I, and had a later career as a vocal coach.
The daughter of a hay merchant, she won three National Eisteddfod chairs and in 1930 was honoured by the Gorsedd.
She died at 107 in the US in 1994. The plaque was unveiled by her niece on Saturday in Llanelli, Carmarthenshire.
The honour is the idea of writer Stephen Lyons, who discovered her story while writing the official biography of her more famous contemporary Gareth Hughes.
"She wasn't a massive star but was certainly well respected and well known on Broadway and got some very good reviews," he said.
"It's a fairly extraordinary story, to live to 107, of a very vibrant life.
"It would be a shame if she was forgotten as she was part of the move for an indigenous Welsh theatre."
He said the actress, a first-language Welsh speaker born in 1886, began winning over eisteddfodau judges at age 13, under her bardic name of Ellyw.
After working as a teacher, she turned to the stage full-time, and in 1914 toured America with a Welsh company, winning good reviews.
Returning to the US, she appeared in a silent films in New York until the mid-1920s as well as in a number of stage productions by the Broadway firm Comstock and Gest.
She trained at Sir Herbert Beerbohm Tree's acting academy but left when she was held up as a model for other students to learn their dramatic and vocal delivery.
Her talents as a vocal coach later gave her a second career in the US, where she gave elocution lessons for many years.
Then in 1951, aged 65, she took an office job with an American diabetes organisation and worked there until she was 87.
She retired to Connecticut where she shard a house with friends who had similar interests in the arts, performance and philosophy.
Mr Lyons said she was interviewed three years before she died and could recite word-for-word a piece which had won her an eisteddfod award in 1909.
"She told wonderful stories of her youth and winning at the National Eisteddfod.
"By this time she was this tiny little old lady but quite an extraordinary one."
The plaque is at 40 Thomas Street, Llanelli, where the family moved when Daniels was a toddler.
In those days it the Fountain Inn pub and her father, as well as being a hay merchant, was the publican.