Cardiff-Swansea fan match after Mike Dye Wembley death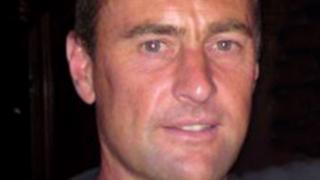 Cardiff and Swansea football fans have united to pay tribute to a Bluebirds supporter who died after Wales' Euro 2012 qualifier against England.
Michael Dye, 44, from Cardiff, was found injured at Wembley before September's game.
Fans put aside their traditional rivalry to play a fundraising match at Bryntirion FC in Pencoed, Bridgend.
One of the organisers of Sunday's game, Terry Walters, said: "There has been a lot of support from both sides."
"Mikey's death was a tragic event, but something good has come out of it because it has brought both sets of fans together to realise that there's more to life than football.
"We realise there is massive rivalry between the two clubs and, while it's great to have a rivalry, it's great to show that fans can put that aside and get together on an occasion such as this."
Love the banter
Swansea fan Stephen Rees said he felt it was a privilege to manage the Swansea fans' team in the Mike Dye Memorial Cup.
"He was a football fan who tragically lost his life at a football venue. He went to the game as a husband and father. His family must be in pieces.
"The rivalry between the two sets of fans is fantastic. I love the banter, I love the craic."
He added: "Some fans should take a look at themselves, whether on the white side or the blue side. The bitterness and hatred can be left in the dark ages as far as I'm concerned.
"To me, Mike Dye was a father and a husband first and a football fan second."
As well as presenting the Mike Dye Memorial Cup, the event - which was won by the Cardiff City fans' team - included an auction of donated items.
Mr Dye's funeral will take place at Thornhill Crematorium in Cardiff at 15:30 BST on Thursday.
An inquest at Barnet Coroners' Court has heard that the provisional cause of Mr Dye's death was blunt trauma to the head.
A 41-year-old Worcestershire man has been remanded in custody charged with Mr Dye's manslaughter.