Police face greatest challenge, says Dyfed-Powys chief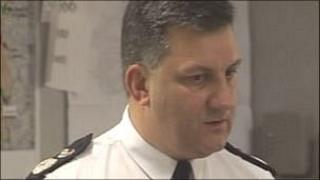 Wales' four police forces are preparing for the biggest challenge in policing history to protect frontline services, says a chief constable.
Dyfed-Powys Police head Ian Arundale was giving evidence to a Welsh assembly committee about how budget cuts might affect public safety.
Earlier this year, a report said about 16,200 UK police officer jobs would disappear by 2015.
Mr Arundale said the forces were doing their utmost to protect services.
Last year, Mr Arundale said his force must find savings of £34m by 2015, and £13m in each subsequent year.
He said at the time he was not "scaremongering" by saying up to 300 posts were at risk, including bobbies on the beat.
He told a panel of Assembly Members that while Wales' four police forces were doing as much as they could to protect services, senior officers were bracing themselves for the "greatest challenge" policing has seen.
"The overall objective is to maintain the frontline services as much as possible," Mr Arundale said.
He said there were fewer resources to deal with minor crime and disorder and to provide a visible presence "because we've sucked our resources into dealing with 'life at risk' issues".
That mean that "communities will have a different view of policing and the level of policing".
"All we can do now is use our professional judgment to try and make sure we cut in the least damaging areas of our business.
"It is a very, very, difficult task. This is probably the greatest challenge policing has faced to date."
Earlier this year, Her Majesty's Inspectorate of Constabulary said some 16,200 UK police officer roles would disappear by 2015, raising concerns about increases in crime.
Mr Arundale also acknowledged that changes in personnel, which have seen many back office staff told they are to lose their jobs as well as senior officers made redundant through a enforced retirement scheme, had damaged morale.
"As chief constables we can't give a cast iron guarantee where we'd want to, because we haven't got the power over some of the government level decisions which directly impact on our staff and our ability to employ," he said.
"There is a correlation between the cuts, changes to terms and conditions as well as pension arrangements which has had a direct effect on morale."