David Cameron criticises Ucac Welsh schools strike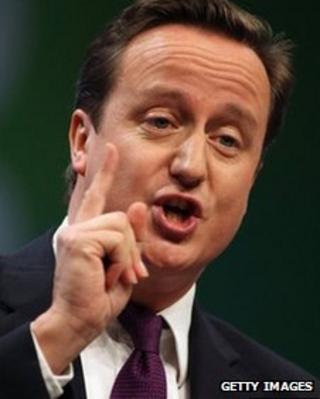 Prime Minister David Cameron has criticised union strikes, including a walkout by members of the Welsh teachers' union Ucac.
More than 300 Welsh schools were closed in Wednesday's 24-hour strike in a row over pensions.
Schools and hospitals in Northern Ireland were also hit by separate action.
Ucac apologised for the disruption, saying more action could be avoided if the government would negotiate further.
Mr Cameron said that "real fairness" was not just about what the state spends, but about the link between what people put in and what they get out.
The strikes are said to be a foretaste of widespread disruption expected during the TUC's day of action on 30 November when millions of workers could be on strike over the UK government's controversial public sector pension reforms.
Speaking at the Conservative party's annual conference in Manchester, Mr Cameron said: "As we debate what people get from the state, let's remember how we generate taxes.
"So to the unions planning to strike over public sector pensions I say this: You have every right to protest, but our population is ageing. Our public sector pensions system is unaffordable.
"The only way to give public sector workers a decent, sustainable pensions system, and do right by the taxpayer, is to ask public servants to work a little longer and contribute a little more. That is fair.
'Willingness to negotiate'
"What is not fair, what is not right, is going on strikes that will hurt the very people who help pay for your pensions."
Ucac said members took action to show their "anger" at the UK government's plans which would leave members paying more and working longer.
General secretary Elaine Edwards said: "We sincerely hope that it'll be possible to avoid further strike action, but that's in the government's hands now.
"They must take note of the message that's being delivered loud and clear by the profession; and they must come to the negotiating table with a willingness to negotiate."
The strike by Unison members in Northern Ireland's health and education sectors was over budget cuts, with some employees such as home care workers, taking industrial action for the first time.
A UK government spokesman said: "We are totally committed to genuine engagement with the unions, we have a lot to talk about and there are proposals on the table for discussion.
"Central discussions have been going on for several months, and the government is committed to working with the unions to achieve necessary reforms."