Safeguarding Children Boards 'not showing results'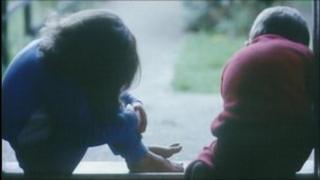 Local boards set up to safeguard children in Wales are not demonstrating how well they are doing their job, according to government inspectors.
A joint report by five inspectorates found the boards lacked focus and were not fulfilling their legal role.
It said good work was being done by individuals, but the boards were no't clearly showing measurable results.
The report recommends better scrutiny and accountability, and for local authorities to take the lead.
Local Safeguarding Children Boards (LSCBs) were set up throughout the UK in 2006 as part of the UK government's Every Child Matters strategy, prompted by the death of eight-year-old Victoria Climbié in London following abuse and neglect by her aunt.
The boards aim to pool knowledge and co-ordinate the actions of local authority education and social services, health boards, NHS trusts, police, probation officers and youth offending teams.
'Limited evidence'
The review was launched in 2008 by five government bodies: Care and Social Services Inspectorate Wales (CSSIW), Healthcare Inspectorate Wales, Estyn, HM Inspectorate for Education and Training in Wales, HM Inspectorate of Constabulary and HM Inspectorate of Probation.
The report's findings confirmed that children were better protected following changes in the wake of the Victoria Climbié case, and praised people for doing "very demanding, complex and difficult work".
But it said the boards had "difficulty demonstrating how they are improving outcomes" for children.
Imelda Richardson, chief inspector of CSSIW, said: "The inspection identified key factors which impacted on the effectiveness of LSCBs.
"Leadership should be more effective; they need to develop strategic direction and there is limited evidence as to how they are engaging with children, young people, parents, carers and wider communities."
The report recommends that local councils take a lead role in running the boards, and for statutory bodies and partner agencies to hold the boards to account.
It also calls for better scrutiny by outside organisations, clarity on funding, and improved data collection and case audits.
In November 2010 the assembly's health committee said the role of LSCBs needed to be clarified, claiming it was not clearly understood or consistent across Wales.
And in August 2011, Pembrokeshire council was criticised in reports by Estyn and CSSIW for weaknesses in its child protection procedures, after a head teacher was convicted and jailed for nine sex assaults on children.