La Belle Bridal Wear of Swansea gowns 'fell apart'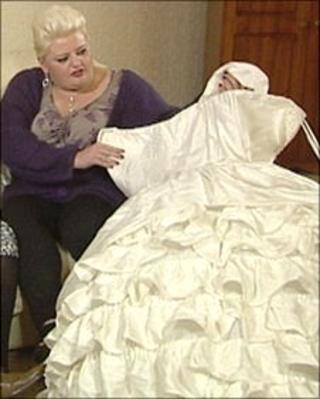 A wedding dress supplier has left customers' dreams of a perfect gown in tatters, BBC Wales' X-Ray programme has discovered.
La Belle Bridal Wear in Swansea charged hundreds or thousands of pounds for dresses which fell apart or smelt of damp as brides walked down the aisle.
Other brides ordered dresses which never arrived.
Carolyn Edwards, who ran the shop on The Kingsway for several years, refused to comment.
One bride, Natalie Howes from Plasmarl, Swansea, chose a couture wedding dress, apparently made by a designer company, in 2008.
Her mother Sheran Rasstatter paid £2,000 for the gown.
She told X-Ray's Rachel Treadaway-Williams: "She looked like a vision in it, like a daughter should look like on her wedding day, and if that's what she wanted, I was prepared to pay it."
By the time Ms Howes' dress was paid for in full in 2010, La Belle Bridal Wear had downsized and Carolyn Edwards was renting a room above another shop in Swansea city centre.
Ms Howes said Mrs Edwards was unclear about which dress she had ordered for the anxious bride, and there were delays in getting hold of her gown.
The reason for the delays became clear on the wedding day as her dress began falling apart.
Both shoulder straps snapped off before the reception and the skirt began unravelling during the wedding breakfast.
Her mother contacted the company which Mrs Edwards claimed had made the dress.
The company confirmed it was not one of its dresses, although it contained parts of a shop sample it had previously supplied Mrs Edwards.
Other brides who were badly let down by Mrs Edwards include Marcia Pendry, who believes the wedding dress for which she paid almost £700 had originally been a sample dress for brides to try on in the shop.
The bridesmaid dress which cost her nearly £200 was not the one she had chosen, and fell apart when her daughter tried it on.
'Sinking feeling'
By the time Charlotte Hurford and Kayley Criddle collected dresses they had ordered from Mrs Edwards for their weddings this year, she had moved premises again and was trading from a unit on an industrial estate in her home town of Ystradgynlais.
The cramped and dingy office was far from what the brides expected when it came to arranging dress fittings, but Mrs Edwards was proving increasingly difficult to contact.
When they finally collected their dresses with hours to go before their weddings, Ms Criddle was concerned that her dress smelt of damp, and Ms Hurford's was hanging in unfinished swathes of fabric.
Ms Hurford said: "I just broke down in tears. I just sobbed for about an hour while I was there, and on the day I felt I was putting a bed sheet on, not my wedding dress."
Ms Criddle told X-Ray: "I was paranoid that when I was walking down the aisle that people could smell the dress and think I smelt."
Five days before Lisa Needham's wedding, Mrs Edwards admitted she could not supply the £700 dress which had been paid for.
Ms Needham had to find a dress at short notice and is still waiting for the refund she says Mrs Edwards promised her.
Rebecca Hardwick is getting married next year. She has been unable to contact Mrs Edwards, who she paid £2,000 for wedding and bridesmaids' dresses.
She said: "That's when the sinking feeling starts, that the realisation is you're probably not going to get your dresses or your money back."
X-Ray contacted Mrs Edwards to ask her to explain what had gone wrong and why she had taken money for dresses she had not provided, and some which were falling apart, but she refused to comment.
When presenter Rachel Treadaway-Williams called at Mrs Edwards' Ystradgynlais home, although the dress seller answered the door, she refused to provide any answers.
La Belle Bridal Wear in Swansea is unrelated to any other bridal supplier.
X-Ray is on BBC1 Wales at 19:30 BST on Monday, 10 October and available via the BBC iPlayer for one week after broadcast.