Local touch 'helped avoid riots' in Wales, say police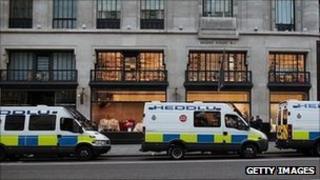 Local policing and good community relations were some of the reasons why the summer rioting in English cities did not spread to Wales, says a report.
The deputy chief constable of South Wales Police ordered a review into how the force responded to the disorder.
The report said the experience drawn from three major incidents in Cardiff, including the killing of teenager Aamir Siddiqi, may have helped prevent riots.
But criminologists said other factors may also have played a part.
Deputy Chief Constable Colette Paul said that while Bristol, with a similar demographic to Cardiff, had witnessed rioting, the Welsh capital had been "relatively untouched".
She said lessons and planning from three incidents - an English and Welsh Defence League march, an anti-terrorist operation and Aamir's killing - "may well have assisted" in the prevention of riots in south Wales.
Other reasons suggested for the lack of disorder included a "local policing style" supported by youth workers, neighbourhood policing teams "embedded" in communities and visible patrol "strategies".
Management of the media was also highlighted "to prevent the glorification of incidents which could have fuelled tensions".
The South Wales Police report said: "Cardiff has a good record of managing community cohesion involving the police, the council, voluntary groups and community leaders who are in regular discussions.
"There are various partnership groups... which collectively assist in the identification and prevention of community tension.
"The Safer Capital Partnership is instrumental in promoting Cardiff as a proud capital and as such partnership arrangements are robust and have realised benefits as a consequence of a number of serious incidents over the last 18 months."
The disorder was the worst seen in England for many years and affected several cities including London, Manchester and Birmingham.
But other places, including Scotland and many English cities such as Sheffield, also avoided major disturbances.
Drug dealing problems
Prof Michael Levi, from Cardiff School of Social Sciences, said other factors besides sensible policing may have been at work.
"One way of thinking about it is how many small-sized cities in England didn't have riots?" he said.
"It may be something to do with size and alienation. These are all areas [cities that experienced riots] with big drug dealing problems and lots of tensions.
"If you go back to [the] 1981 [riots], there wasn't any significant amount of trouble in Cardiff compared to Bristol."
But he agreed South Wales Police's "human" approach appeared to have paid off in this instance.
"If there was a risk, it was managed well, but it was managed well presumably in other parts of England that also didn't have riots," he said.
Hundreds of officers from police forces in Wales were deployed to London to help their Metropolitan Police colleagues, while North Wales Police also sent officers to Manchester.