Millennium Stadium open for Wales-France World Cup semi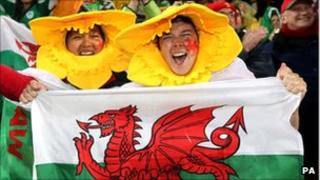 The Millennium Stadium will open its doors on Saturday to allow thousands of supporters the chance to watch Wales' World Cup semi-final on big screens.
Fans will be able to get in free to watch the match, which kicks off in Auckland at 09:00 BST on Saturday.
About 25,000 tickets will be on offer from 10:00 BST on Tuesday.
The match is being billed as one of the biggest in Welsh rugby history with the team seeking to reach a World Cup final for the first time.
Wales beat Ireland 22-10 on Saturday in a performance which has been lauded by supporters and pundits alike.
Millennium Stadium bosses hope fans will want to share the experience of watching Wales' second World Cup semi-final.
Manager Gerry Toms said: "With Wales' progress in the World Cup being so good, we sat on Saturday and watched the game and straight after we said we need to do something special now.
"This is a unique occasion in Welsh rugby history. We're through to the semi-final and, the way the boys are playing, there's a very, very good chance we're going to go through to the final.
"We said 'Let's do something for our fans in Wales and why not open the Millennium Stadium on Saturday, let's put the game on the big screens and all our televisions, and bring an extra big screen in, and invite the spectators along for free.'"
Mr Toms said he hoped about 25,000 would join the free viewing, but "that could change depending on what the take up is during the week".
But he added there would be on one condition: "You've got to wear red!"
Fans will be limited to six tickets per person and be available to fans in person from gate 3 at the stadium on Tuesday, as well as the WRU website.
Cruise liner
Meanwhile, supporters who want to watch the game in New Zealand are scrambling for the various match packages that are available.
Despite the current financial climate, the chance to see Wales in a World Cup semi-final is proving very tempting, say travel operators.
One company offering flights, match tickets for both semi-finals and three nights accommodation for around £2,500.
Another travel firm is offering three nights in Auckland on board a cruise liner, including tickets for both semi-finals but no flights, for £999.
Leighton Griffiths, from Newport, said he booked his flights out for the semi-finals the moment the whistle blew on the Ireland game
Mr Griffiths, who said he had an "understanding" employer, said: "We should see four games in the matter of a week and all in the same place.
"If we play our best and we get through, we will have deserved it and you can't say any more than that and hopefully we will succeed."
'Very busy'
At the higher end of the scale, there are luxury packages available for flights, tickets to both semi-finals, third place play-off and the final, and accommodation for the duration for about £8,500.
Jim Strachan, director of Strachan Sports Travel in the Vale of Glamorgan, said: "It's been absolutely hectic.
"I think it's just the fact that the Welsh team are playing so well. We would not be surprised to see them in the final."
He said most people were heading out on Tuesday or Wednesday though, at a push, it was just about possible to make it by leaving on Thursday.
Thomas Cook Sport also said phones had been "very, very busy" on Monday morning.
And a spokesperson for Gullivers Sports Travel said: "Our phone has been pretty much ringing off the hook this [Monday] morning.
"We're having a massive amount of interest from Welsh fans."