Nanny Beatrice Dalton stole cash from Goodwood heiress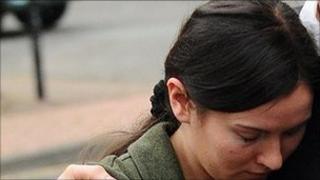 A nanny who was "intimidated" by her aristocratic employers' wealth stole £6,600 when she was entrusted with the couple's bank cards.
Beatrice Dalton, 25, stopped claiming her wages after Lady Louisa Collings bought her a £3,000 second-hand car.
But Merthyr Crown Court heard the "trusted" childminder, from Herefordshire, stole the money from the couple from Presteigne, Powys, instead.
She was convicted of fraud at Merthyr Crown Court. Sentencing was deferred.
The court heard that Dalton was employed for four years by Lady Collings, heiress to the Goodwood estate in West Sussex, to look after her four children and became a "valued" member of the family.
But the jury was told she "hated being seen as poor" and was embarrassed to ask for her wages that her employer called "pocket money".
Groceries
After three years, the court heard, Lady Collings and her businessman husband Ben bought Dalton a second-hand car for £3,000.
She stopped asking for her £7-an-hour wages because she wanted to make the couple believe that she was "much better off" than she was.
But when her own money ran out, she turned to the bank cards, given to her to buy groceries and items for the family, to pay herself.
Hywel Hughes, prosecuting, said Dalton was an integral part of the family and was entrusted with debit and credit cards.
"She was given that trust on the understanding that she would not abuse that trust," he said.
Interest
The court heard that when interviewed by police, Dalton said: "They were wealthy and I wanted them to think I'm on that sort of level.
"I felt uncomfortable because I wanted them to think I was paying them back for the car which they had given me as a gift.
"Louisa is very aristocratic and I sometimes felt intimated and I hated asking for money sometimes.
Dalton added: "I hope to God I've not taken any more than I was entitled to, I would never do that."
The court heard she was found out when Lady Collings' Barclaycard account began attracting instant interest, something which never happened due to the substantial cash balance in the account, the court heard.
'Super person'
Lady Collings said she "had not wanted to believe" Dalton had taken the money.
"I was very shocked. I loved her and trusted her. I felt totally bewildered by the discovery. I was horrified and really shocked.
"She was a super person. She really did a good job and looked after the children very well so we wanted to give her a car to help her commute."
The trial judge directed the jury to find Dalton not guilty on two charges and on Monday, the jury found her not guilty of three more fraud charges.
But she was found guilty of the most serious offence, using a Barclaycard to dishonestly withdraw £6,600,
Judge Richard Twomlow told her: "This was a most serious breach of trust of people who have treated you very well."
He adjourned sentencing for three weeks for reports.