Housing market in Wales 'subdued', says Rics survey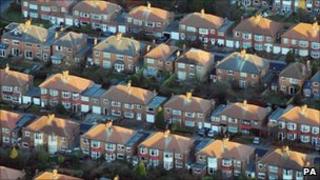 Continuing fears over the economy and fragile consumer confidence are continuing to hit the housing market in Wales, it is claimed.
The number of homes put up for sale in September fell, according to the latest figures from the Royal Institution of Chartered Surveyors (Rics).
The housing market overall in Wales is said to be flat and subdued.
However, the number of inquiries from potential new buyers was reported to have increased slightly.
A large majority of surveyors reported prices falling rather than rising, and most did not expect prices to rise over the next three months.
Tony Filice, Rics Wales housing spokesperson and director of Kelvin Francis Chartered Surveyors in Cardiff, said: "Falling supply of fresh stock in many parts of Wales is indicative of general fears overhanging the economy, with many potential sellers preferring to stay put for now.
"As a result, the Welsh housing market remains pretty flat with activity level generally subdued.
'Challenging'
Surveyors also reported the large deposits required by lenders was acting as a barrier to potential buyers.
Stocks of properties on their books fell during September from an average of 122 to 114.
But while the market remains "challenging", respondents report sales were still taking place on properties that were realistically priced.
There was also some optimism over the number of sales expected over the next few months.
Mr Filice said a marginal improvement in the range of mortgage products available had led to them noticing some improvement in the number of first time buyers and buy-to-let investors in Cardiff.
He added: "Although it is hard to see what will give the overall Welsh market a lift in the near term, the announcement of a further raft of quantitative easing (creating money to buy assets) from the Bank of England will help to at least keep mortgage rates down."