University of Wales' Powis scholarship funding to end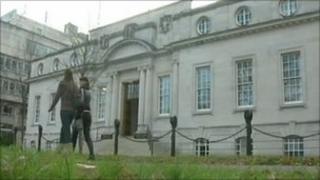 A hi-tech scholarship programme run by the University of Wales (UoW) is to close after ministers decided to withdraw its European funding.
The Prince of Wales Innovation Scheme (Powis) looked to attract top graduates to work on research projects within Welsh firms.
But a review has found "management and governance shortcomings."
Existing contractual commitments to eligible scholars and businesses will be honoured.
The university has had a difficult week following a BBC investigation into a student visa scam at colleges offering UoW-validated courses.
On Monday Education Minister Leighton Andrews said the chairman of the UoW council D Hugh Thomas should resign.
The scholarship scheme was designed to attract the "brightest university graduates from across the world" to work in Welsh industry.
The scheme is focused on hi-tech industries in west Wales and the Valleys.
The Welsh government suspended payments to the scheme in January.
Outstanding issues
Now Enterprise Minister Edwina Hart has told AMs in a letter that a review found a number of shortcomings mainly in relation to the eligibility of EU expenditure.
Ms Hart said the Wales European Funding Office (Wefo), which administers EU funding in Wales, had been working closely with the university and would assist it with a "managed closure" of the project.
All EU payments to the scheme remain suspended, and the new Vice Chancellor, Professor Medwin Hughes has been asked to commission an independent assessment of the way the scheme is run for existing scholars.
The scheme's overall budget is £11m, with £5m from EU funding and £6m from the university and businesses participating in the scheme.
The minister confirmed only £0.4m of EU funding had been paid to the project to date.
She said existing contractual commitments to eligible scholars and businesses would continue, although European funding would remain suspended until all outstanding issues were resolved.
The Prince of Wales holds the honorary role of Chancellor of the university.
Last week, the UoW said it was "fully confident" payments would resume shortly and defended the programme's record for attracting investment, saying Powis had brought in £12.5m in only the first two years.