Nurse Victoria Horsley faces hearing over boy sex claim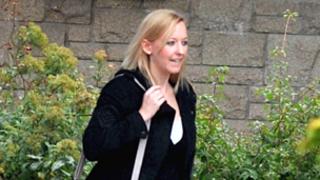 A district nurse is facing a Nursing and Midwifery Council (NMC) Conduct and Competence Committee over her alleged relationship with a 15-year-old boy.
Victoria Horsley, 36, of Benllech, Anglesey, is accused of having sex with the teenager and allowing him and another boy to drive her car.
Mrs Horsley, who was sacked by North West Wales NHS Trust, denies the charges.
She admits allowing a third teenager to drive the car. The hearing continues.
A disciplinary panel hearing in January was adjourned to allow the sex charge to be added. That hearing was told the alleged relationship with the boy began in 2005 and continued in secret until 2008.
Mrs Horsley, who lives with her partner and two children, was said by her lawyer to be "devastated and shocked" at the sex allegations.
She began working for the trust in July 2003.
The hearing in Cardiff was told the boy was interviewed twice on video after complaints made to police by his parents of the boy, referred to as Child A, about Mrs Horsley.
Police twice sent papers to the Crown Prosecution Service but both times they ruled there was insufficient evidence for a successful prosecution.
Presenter Louise Culleton told the disciplinary panel: "The parents of Child A made allegations to the police that their son, at the time 14 or 15, had been involved in a sexual relationship with Ms Horsley.
'Beach areas'
"He and his brother would spend substantial amounts of time at her home and being driven around in her car."
The hearing was told that police questioned the nurse about her relationship with the boy.
Child protection officer Det Con Alan Carter told her: "Child A has told us that you and him have had intercourse 10 times.
"The majority of them - if not all - were you asking him to have sex with you.
"The majority were in beach areas where his friends were left in the car and you wandered off to have sex."
The hearing was told that, in the police interviews, Mrs Horsley rejected all the sex allegations and claimed they were "lies and made out of maliciousness".
The disciplinary hearing also heard that Mrs Horsley told police: "I wish to deny the allegations in their entirety."
She also denies keeping in touch with the boy and his younger brother after being warned by her previous employers to break contact with them.