World Cup fever builds ahead of Wales' France semi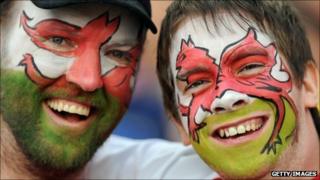 Excitement is building across Wales ahead of Wales' Rugby World Cup semi-final against France in New Zealand.
Fans keen to secure tickets to watch the match on big screens in Cardiff's Millennium Stadium queued outside on Wednesday.
Another 20,000 tickets have been made available, after 25,000 were snapped up on the first day.
Swansea will stage its own big screen event, and Welsh MPs have tabled a Commons motion backing the team.
Millennium Stadium organisers said around 40,000 tickets for Saturday's free screening event 'Wake up to Wales' in Cardiff have been taken.
The allocation for etickets has been exhausted but fans can still queue for tickets at Gate 3 at the stadium until 19:00 BST on Wednesday. There is a limit of six per person.
National anthem
The stadium has announced that Only Men Aloud and West End actress Sophie Evans, the runner-up in BBC talent show Over the Rainbow, will sing the national anthem with fans on the day.
Rock band 4th Street Traffic, who performed for the Wales squad before they set off for New Zealand, will play after the final whistle.
Gerry Toms, the stadium's manager, said: "The Welsh public are getting extremely excited about Saturday's big game at the Millennium Stadium."
The stadium will open at 07:30 BST on Saturday and alcohol will be served from 09:00 BST.
Fans will be able to use park and ride facilities at County Hall in Cardiff Bay from 07:00 BST and normal match-day road closures will be in place in Westgate Street for the special screening.
'Magnificent'
The stadium said it was in constant discussion with Cardiff Council about arrangements.
South Wales Police officers will be on duty in the city centre to help the event run smoothly, a spokeswoman said.
In Swansea, fans will be able to catch the coverage live on a big screen in Castle Square.
Lord Mayor, Coun Ioan Richard, said the success of the national rugby and football teams has lifted the mood of Swansea and Wales.
"Friday night's 2-0 victory over Switzerland which I attended at the Liberty Stadium was magnificent enough.
'Flying proudly'
"But the rugby team's success over Ireland and the football team's win away in Bulgaria mean it's no stretch to say this is one of the greatest sporting weeks ever for Wales."
At Westminster, a group of MPs asked for a message, congratulating the Wales players, to be added to the Parliamentary record.
In it, they noted that the team's success so far was "achieved by its exhilarating, exemplary, professional and disciplined approach led by its outstanding captain Sam Warburton and its coaching staff led by Warren Gatland".
Meanwhile, Welsh Secretary Cheryl Gillan is asking the prime minister to fly the Welsh Dragon over Downing Street on Saturday, following a request from Cardiff West MP Kevin Brennan.
No 10 has been known to fly the St George cross for sporting events in the past.
Mrs Gillan said the Welsh flag "would be flying proudly" above Gwydyr House - the Welsh Office headquarters in Whitehall.
She also paid tribute to the Welsh rugby team's success describing it "as one of the best adverts for Wales".