Indian head massage tuition for carers in Rhondda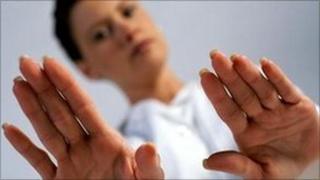 Carers are to be given free Indian head massage tuition so that they can help those they look after to relax.
The holistic therapy, which can help with headaches and mobility, will be taught to those who care for elderly or disabled people in Rhondda Cynon Taf.
The day course, organised by the council, is open to anyone who cares for a friend, neighbour or relative in the county.
Tutor Tom Delaney said it would help the carer and the person they care for.
"My main aim is for carers to learn to do a basic, relaxing massage for the family and friends they care for," said Mr Delaney, a practitioner for eight years.
"Indian head massage isn't just focused on the head, it also concentrates on the upper back, shoulders, neck and face.
"A key aim is to de-stress and relax. But it also helps people who are immobile - for example, in a wheelchair your back can tense up, so massage helps that too.
"And I'm hoping that, because the course will be hands-on, the carers get pampered too."
According to practitioners, the treatment relieves tension, headaches and stress. It also stimulates lymphatic drainage, helping to remove toxins and boost the immune system, as well as restoring joint mobility and improving circulation.
Theresa Evans, from Llantwit Fardre, cares for her 18-year-old son Alex, who has Ataxia Telangiectasia, a very rare neurological condition which has left him in a wheelchair and only able to be fed by a tube. He also has a weak immune system.
She said she would love to go on the course.
"Alex needs 24 hour care. I have to wash, bath and dress him and help him to the toilet," she said.
"It's very stressful and I don't really get a break so I find the idea of learning Indian head massage very interesting. First of all, I think carers would benefit from a bit of pampering.
"We often get quite forgotten and just have to get on with things. But if we get ill who looks after the person needing care?
"And I think it would be good to be able to give Alex a head massage. He gets a leg massage when he goes to respite care in Ty Hafan children's hospice and loves it.
"So it would be great if I could massage him at home. He gets quite frustrated in the wheelchair as he remembers being able to walk and eat and play rugby.
"If he is relaxed it makes life so easier for me as his carer. I think it would be a win-win situation."
Respite care will be given for those carers who take part in the course, which will be funded by the council's Carers Support Project.
Karen Chantry, chief executive of Crossroads Care Cwm Taf, which provides support for carers, said caring could be "extremely stressful" for both the carer and the cared for.
"Any break a carer can have is good for them, even if it's just a day to do this course," she said.
"Equally, some people who are cared for can find it stressful. They often feel like a burden and don't like having to ask for things to be done. So stress can build up on both sides and anything that can help relieve that should be welcomed."
The course takes place at Cynon Valley Museum and Gallery in Aberdare on Monday, 24 October.
Carers who would like to attend can call Freephone CarersLine on 0808 100 1801.