Hospitality sector 'can create 20,000 jobs by 2020'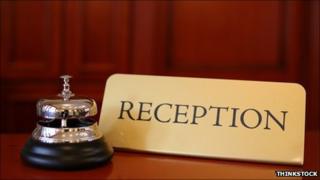 Funding for Wales' tourism needs to be protected against any budget cuts if it is to continue creating jobs, the hospitality industry has warned.
A study claims 20,000 jobs can be created over 10 years if government help for the industry continues.
The survey found nearly one in five people in Gwynedd and Conwy rely on hotels, restaurants and catering for employment.
The Welsh government said the sector was a priority and key to jobs growth.
The British Hospitality Association (BHA) claims an in-depth study, based on 2010 figures, shows how important hotels and restaurants are to the Welsh economy and all areas of Wales.
The research by Oxford Economics found:
The sector directly employs more than 113,000 people and indirectly a further 56,000 people, amounting to 12.5% the workforce
The industry has a turnover in Wales of £2.9bn
It contributes £1.4bn to the Welsh economy in wages and profits.
Cardiff and Swansea have the most number of people directly employed in the sector, with Cardiff ranking in the top 20 across the UK
But Gwynedd, Conwy, Pembrokeshire, Anglesey and Monmouthshire are more reliant on hospitality for employment.
More than 52 hotels, including 29 budget hotels, representing 3,800 rooms have opened in Wales since 2000 which, with the cost of refurbishments of existing properties, has put around £1bn in to the economy, it said.
The BHA, which has more than 1,000 establishments in Wales, argues that, provided government support for tourism continues, hospitality is well placed to increase direct employment job numbers in every council area in Wales, topping 134,000 by 2020.
BHA Wales chair Andrew Evans said: "This report shows the tremendous contribution the hospitality sector makes to the Welsh economy.
"Our members are often small businesses which can react quite quickly and creatively, creating jobs that are sustainable.
"We've got solutions to meeting job creation targets. These are not just small jobs, they go right through to senior jobs and specialist, highly-skilled jobs."
Mr Evans said investing in the hospitality sector would help drive consumption in other industries such as agriculture and construction.
A Welsh government spokesman said: "The Welsh government recognises the importance of tourism, and hospitality, to the economy in Wales.
"The decision to move responsibility for tourism to the business minister was a clear acknowledgement of the key contribution tourism makes to the potential prosperity of every part of Wales."
He added that the minister has also designated tourism as one of three new priority sectors in the Welsh economy.
The spokesman said a budget of more than £15m for Visit Wales next year would help focus activities to increase visitors and their experience, while marketing Wales across the rest of the UK and overseas.