Downing Street to fly Welsh flag for Rugby World Cup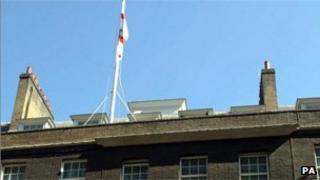 Downing Street is to break with tradition and fly the Welsh flag above No10 on Saturday for the Rugby World Cup semi-final.
Prime Minister David Cameron said he wished the team every success in the match against France.
Mr Cameron said a home nation's flag would usually be raised if they reached a final but the move recognised the importance of the competition.
Events are being organised across Wales for the match in New Zealand.
Mr Cameron said: "Wales are the last home nation competing in the Rugby World Cup and I wish them every success in the semi-final against France on Saturday.
"We would only usually fly a home nation flag for a final, but I know how important a competition this is and we all want to get behind Wales, so I've decided to break with tradition on this occasion and fly the flag for Wales in Downing Street on Saturday."
The idea was raised earlier on Wednesday by Cardiff West MP Kevin Brennan at Welsh questions.
He pointed out the Flag of St George had been flown when England had been involved in big sporting events.
Welsh secretary Cheryl Gillan promised to speak to Mr Cameron about it.
Mrs Gillan also paid tribute to the Welsh rugby team's success describing it "as one of the best adverts for Wales".
Earlier, a group of MPs congratulated the Wales players by tabling a Commons motion.
In it, they noted that the team's success so far was "achieved by its exhilarating, exemplary, professional and disciplined approach led by its outstanding captain Sam Warburton and its coaching staff led by Warren Gatland".