Nurse Victoria Horsley denies having sex with boy, 15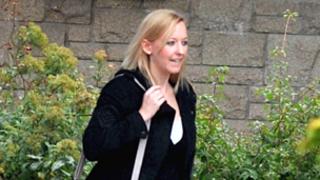 A district nurse accused of having sex with a 15-year-old boy said she was not attracted to him but felt sorry for him after he claimed he was being abused.
Victoria Horsley, 36, of Benllech, Anglesey, denied ever having sex with the boy and drinking alcohol with him.
She is facing a Nursing and Midwifery Council (NMC) Conduct and Competence Committee over her alleged relationship.
She said she felt "protective to the boy at the time." The hearing continues
Mrs Horsley, who was sacked by North West Wales NHS Trust and faces being struck off by the disciplinary committee, told the Cardiff hearing that the claims had been made up by the boy, referred to as Child A.
"It never happened. There's no truth in it at all," she said.
"The boy's family are nasty people. He made up the allegations to make trouble for me.
"There was never anything sexual between us. Never at any stage."
Mrs Horsley said she first met the boy and his brother when they claimed they were being physically abused and "being hit a lot" by the father.
But she said the brothers later began to pester her for lifts in her NHS district nurses car - and that their "whole family turned nasty."
'Frightened'
Mrs Horsley said she had been friendly with the parents in the past but "it all went sour".
She said: "On one occasion the boy's mother beat me up and later the father had stalked me. I didn't call police because I was frightened."
Mrs Horsley said the brothers were constantly asking for lifts and she admitted taking them to see friends in nearby villages.
She said: "It was just so they would leave me alone."
But she admitted to the Nursing and Midwifery Council disciplinary hearing: "It wasn't a sensible thing to do. But I was stressed out at the time."
The hearing was earlier told the boy was the envy of his teenage pals for allegedly having a relationship with the nurse for three years.
One of his friends told the hearing: "We thought he was a helluva boy - a good lad, it didn't do his reputation any harm at all."
Police interview
The friend, who cannot be named, told the hearing how he spotted the pair together on a bench on a cliff above Red Wharf Bay beach, which he was walking along.
He said it had been a freezing night and he was on his way home from a pub in Red Wharf Bay when he saw the couple.
The hearing previously heard that the boy and Mrs Horsley had sex on the beach near her home and also in her own bedroom.
It also heard that the boy was interviewed twice on video after complaints made to police by his parents about Mrs Horsley.
Police twice sent papers to the Crown Prosecution Service but both times they ruled there was insufficient evidence for a successful prosecution
The nurse, who joined North West Wales NHS Trust in 2003, was sacked by health bosses after they investigated sex allegations and claims that teenage boys had been allowed to drive her nurse's car.
She has admitted allowing a third teenager to drive the car.
The hearing continues.