Teacher Sean Allen's 21 marathons in 21 days for friend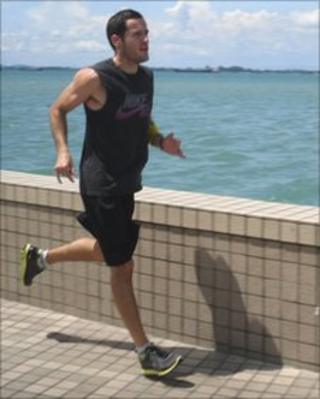 A teacher has beaten the pain of a torn muscle and suspected stress fracture to complete 21 marathons in 21 days.
Sean Allen, 28, had never even entered a half-marathon before setting out to run over 550 miles (885km).
He moved back to the UK from Australia for the challenge, and spent 130 hours on the road before finishing his final marathon in Cardiff on Thursday.
Mr Allen, from Cardiff, was raising funds for the son of friend Andrew Mills, who died from a brain tumour.
Mr Mills, who lived in Milton Keynes, fought a long battle against illness before his death this year.
Cash raised will be put into a trust fund for Mr Mills' one-year-old son Alexander, who was five months old when his father died.
"On day seven I tore my right quad [thigh muscle] and I'm pretty sure I've got a stress fracture in my left shin," said Mr Allen, who had been teaching in Sydney.
"Day seven was the most pain I was in and I had to walk the next few because I was in such a state.
Fastest time
"I was out for nine hours on day 10. Literally just walking was excruciating."
But he pulled through and ran his fastest time by over an hour as his marathon effort came to an end in the Welsh capital, where he also began his runs.
"I ran a really good time of 3 hr 41 min. I didn't want to leave anything in the tank," he said.
Mr Allen said he was now looking forward to having a lie-in on Friday before watching Wales' Rugby World Cup semi-final clash against France on Saturday.