Cardiff cabs leader criticises disability taxis boost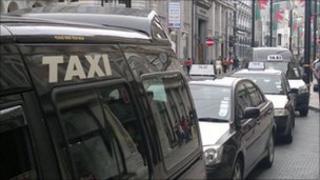 A taxi drivers' leader claims proposals to phase out saloon cars as a way to improve access for disabled people will put some Cardiff cabbies out of work.
Mathab Ahmed Khan, chairman of Cardiff Hackney Carriage Association, wants the council to abandon the idea, saying it will cost drivers £8m.
Cardiff is consulting on the move so disabled people can hire a taxi "with the minimum delay or inconvenience".
Councillor Ed Bridges said: "Nothing has been agreed or dismissed."
Cardiff has around 400 saloon taxis among more than 950 in operation.
Mr Khan is already working on a petition for his drivers to give passengers to reject the idea.
He said more than 500 Cardiff cabs suitable for disabled passengers was sufficient.
Ageing fleet
Mr Khan said: "The disabled population of Cardiff is no more than 5% of the total population. Therefore, there is no shortage of disabled access vehicles to accommodate their needs.
"If we were to replace these 400 vehicles, it would cost us something like £8m and there is no way we are in a position to stand that sort of money."
The prospect of saloon cars being phased out as cabs was raised by a report to councillors which noted concern about the standard of the ageing taxi fleet.
It noted Liverpool, Bristol and Manchester insist that hackney carriages must be black cabs, as in London, while Leicester and Southampton specify taxis must be accessible for wheelchairs.
The report noted that it is "important that disabled people have the same access to transport to ensure social inclusion, in particular that a disabled person should be able to hire a hackney carriage on the spot with the minimum delay or inconvenience, and having accessible hackney carriages makes this possible."
'Quite steep'
Wendy Ashton, chair of Disability Wales, said the difference in people's impairments meant a combination of cars was needed.
"There are all kinds of issues around taxis.
"I have spinal problems so I can't use the London taxi-type cabs. I can get in but can't bend to get on the back seat, not without severe pain.
"I know people who prefer a saloon car. If they are not tall then it's easier for them to get in to from the road.
"If people are wheelchair users and they have ramps to get in, sometimes the ramps are quite steep."
Some vehicles designed to carry wheelchairs did not always cater for large electric wheelchairs, she said.
'Priority'
Council officers are to discuss the review with taxi trade representatives next week.
Councillor Ed Bridges said no decision was made to remove the saloon car category at the recent committee meeting.
"Instead, the committee suggested further investigation was needed into reviewing vehicle type approval, in particular having a restricted number of vehicle types in a mixed fleet - e.g. saloon, multi-purpose vehicle (MPV), purpose built.
"Arrangements are being made to initiate trade consultation with regards to the [taxi] vehicle testing regime as this was considered priority by the committee. "
Cardiff also has about 800 licensed private hire or mini cabs.